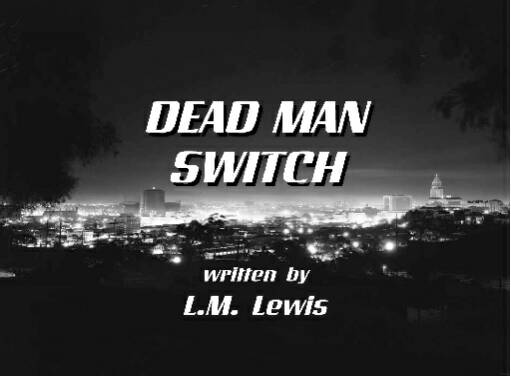 September 2, 1986
Rev. September 20, 1986
Author's Note: This is a standard-length script for a one-hour episode of Hardcastle and McCormick, following the format of the original 1983-1986 versions. Because it is intended for readers, rather than a director and actors, some conventions were dispensed with, including the cast and set lists. I've also injected more than the usual number of parenthetical directions—surely the bane of skilled actors everywhere (because there are no actors to annoy here), and I used a minimum of camera angles.
FADE IN:
EXT. GULL'S WAY—DAY
The truck pulls in the driveway. There's something in the back, draped with a tarp. McCORMICK jumps out of the driver's side and heads for the front door of the main house.
INT. THE DEN—DAY
HARDCASTLE is sitting at his desk, elbow on the arm of his chair and his cheek propped on his fist. He looks pensive. We hear the front door open.
McCORMICK (V.O.)
(hollers)
Judge?
HARDCASTLE
In here.
ANGLE—PULL BACK TO TAKE IN THE STEPS TO THE FRONT HALL
McCormick's bouncing down them, looking pretty spry. Hardcastle hasn't moved from his initial position and McCormick comes to a full stop, taking in what he sees. His hands are on his hips.
McCORMICK
You still mooning over what that woman said the other night?
Hardcastle gives him a glare, but doesn't answer. That qualifies for "mooning" in McCormick's book.
McCORMICK
Okay, so you thought you got picked for a judgeship 'cause they wanted a squeaky-clean boy scout—
HARDCASTLE
(growls)
I never said that.
McCormick's got his head cocked.
HARDCASTLE
Well, maybe I sorta said that.
(beat)
And maybe I kinda always suspected that Nancy's dad was the one who got my name on the short list—that he only wanted the best for his little girl. And maybe that was why I almost said no. But this—
(beat)
Getting the go-ahead from a chiseler like Pierce. I dunno—
(shakes his head)
It makes ya wonder if anything you believe is true.
McCORMICK
Not me.
HARDCASTLE
Yeah, well, we know how you ended up where you ended up.
McCormick makes a face.
HARDCASTLE
I'm just sayin' all those years, sittin' on the bench, handing down rulings, thinking I was doing my part—and maybe the whole thing turned on some guy wanting me out of the way.
McCORMICK
Exactly.
Hardcastle lifts his chin off his fist and frowns at him.
McCORMICK
Even back then any bad guy worth his salt didn't want you around when he was up to something.
(beat)
Anyway, how you get where you're going isn't as important as what you do once you get there, right?
He gets a reluctant shrug from Hardcastle.
McCORMICK
And I got you something.
HARDCASTLE
What?
McCORMICK
It's a surprise. It's in the truck. Come on.
(he moves in, hooking Hardcastle's arm and tugging)
You'll like it.
HARDCASTLE
'A surprise'? I hate surprises.
(rising reluctantly, to avoid having his shoulder dislocated)
Is it fertilizer?
ANGLE—INTO THE FRONT HALL
As McCormick nudges Hardcastle along.
McCORMICK
No, it's not fertilizer. What kind of a surprise would that be? I always get fertilizer.
EXT. THE FRONT PORCH—DAY
Hardcastle and McCormick exit the house.
ANGLE—TAKING IN THE TWO MEN AND THE TRUCK—PARKED A FEW FEET AWAY
Hardcastle looks at it warily. McCormick is bouncing again, down the front steps and over to the vehicle. He drops the tailgate and climbs up. Hardcastle draws nearer, despite himself. The tarp-covered object is at least eight feet long and propped against the far side of the truck bed. McCormick takes hold of the tarp as though for an unveiling. He whips it off with a flourish.
McCORMICK
Ta-da!
Hardcastle's mouth is slightly agape. It's a door—but not just any door. This one is heavy oak, darkened with age. It's got a half-window with frosted glass that bears the lettering: MILTON C. HARDCASTLE, ATTORNEY AT LAW. It's obviously the one from the Harmstead building.
HARDCASTLE
How the hell'd you get it?
McCORMICK
(grinning)
You're welcome.
(beat)
Actually, Rebecca asked me what she could do to thank you, and I suggested this.
HARDCASTLE
'Rebecca'?
McCORMICK
I ran into her when I stopped by Frank's office to sign my statement. She said 'Call me Rebecca' and she said the D.A. threw a couple of misdemeanors at her and Bill and asked for community service. Bill's got an appointment with a Beverly Hills plastic surgeon, and they're planning to rehab the Harmstead Building.
HARDCASTLE
Might be a little stigmatized.
McCORMICK
Nah, what's a couple of ghosts? And I took the one really scary thing out of there.
(gestures toward the door with a sweep of his hand)
Help me lift it down.
HARDCASTLE
(moving toward the tailgate)
What the hell am I gonna do with it?
McCORMICK
I figured I'd put it in the file-room doorway for now. Better than that hollow-core thing you've got there.
He slides the door partway out, letting Hardcastle grab the end.
HARDCASTLE
'For now'?
McCormick hops off the tailgate and hefts the door near the other end.
McCORMICK
Yeah—
(he lifts it clear of the truck and they make their way up the porch steps toward the house)
for now, but you never know when you might need an office door again, right?
(he smiles from where he stands, behind Hardcastle)
HOLD ON THAT, AND:
FADE TO BLACK
---
Tune in again for another episode:
Next Monday, at 9 Eastern/8 Central