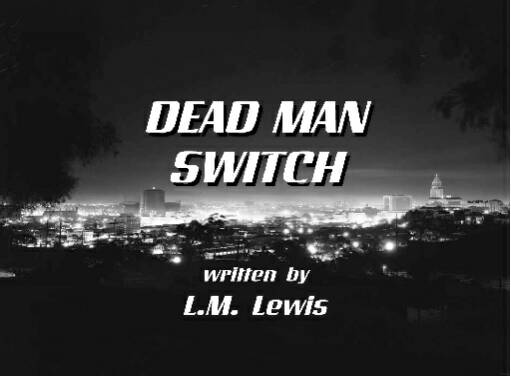 ACT I
September 2, 1986
Rev. September 20, 1986
Author's Note: This is a standard-length script for a one-hour episode of Hardcastle and McCormick, following the format of the original 1983-1986 versions. Because it is intended for readers, rather than a director and actors, some conventions were dispensed with, including the cast and set lists. I've also injected more than the usual number of parenthetical directions—surely the bane of skilled actors everywhere (because there are no actors to annoy here), and I used a minimum of camera angles.
FADE IN:
EXT. L.A. STREET—NIGHT
In an old business section of town, with mid-story brick buildings that have seen better days it's the witching hour, and all is quiet. The camera closes on words carved in stone over the padlocked main door to one structure: "THE HARMSTEAD BUILDING"—gothic and grimy.
CAMERA PULLS BACK
Two furtive figures in black slip into the alleyway alongside the building. One of them, PETE SCHAUM, is a big guy hefting a crowbar. He stoops and uses it to pry away the boards covering a basement half-window. Then he wields it as a lever to force apart the security bars just inside. He steps back as the other man, HARRY SCHAUM, a small, wiry guy, looks around nervously and then squeezes between the bars and disappears into the darkness within. A half-second later his hand protrudes from between the bars. PETE passes him the crowbar. It's obvious he can't follow; the space between the bars is too small. He takes up his post as lookout, half-hidden behind some garbage cans near the window.
INT. BASEMENT OF THE HARMSTEAD BUILDING—NIGHT
We can barely make out HARRY SCHAUM, even after he's flicked on a flashlight. He holds the crowbar down at his other side as he plays the light over his surroundings. We see an area cluttered with pipes and old paint cans and smudged with soot. It appears abandoned.
ANGLE—FROM BEHIND SCHAUM
The camera follows the man as he wends his way deeper into the claustrophobic space. There is no sound except his footsteps. He bumps into something—a pail. It falls over, clattering. There is a diabolical screech—
ANGLE—THE FLOOR
A frightened cat dashes from underfoot.
ANGLE—IN FRONT OF SCHAUM, LOOKING TOWARD HIM
Silence again, except for Schaum's panting breaths. He starts forward again, his footsteps slower, more reluctant. He pauses. We hear one further footfall. Schaum stays frozen, listening, obviously frightened. We hear only his breathing, almost panicky. He forges on, clumsier, finally tripping over something. He breaks his fall, losing his grip on the flashlight. It falls with a hollow, clanging sound. The flashlight has rolled and now illuminates Harry Schaum's face harshly. He's sweaty and smudged with soot. He gets to his hands and knees, looking baffled. He reaches for the flashlight and uses the crowbar to tap the floor again. Another clang is heard. From what we can see of Schaum's face in the dim shadows, he's smiling now. He scrambles forward, hands occupied with crowbar and flashlight, and we see that the surface he's on is a heavy iron sheet, the kind that's used to temporarily cover street excavations. Schaum moves off it, gradually turning his back to the camera as he forces the crowbar under the edge, using his full weight to shift the slab of iron an inch or so. It falls into its new position with a heavy, echoing thud. Another heave and some heavy breathing, and he's got a crack that's barely twice as wide as before. SCHAUM hesitates briefly, and then aims the flashlight's beam into the narrow opening. We see the expression on his face—a transient look of horror giving way to grim satisfaction. Then a hand falls on his shoulder from behind. He whirls around.
ANGLE—CLOSE IN ON HARRY SCHAUM"S FACE
It is contorted with silent fear for just a half-beat—and then he screams.
CUT TO BLACK
FADE IN
EXT. THE SAME L.A. STREET—ESTABLISHING—DAY
HARPER (V.O.)
So that's the way it looks—the guy busts in, maybe looking to do a little unauthorized salvage work—
INT. THE ATRIUM OF THE HARMSTEAD BUILDING—DAY
Despite the state of disrepair, it's one of those classic business buildings from the early 20th Century—think a downscaled Bradbury Building: e.g. black and white floor tiles and cage elevators that, if they hadn't been out of order, would have ascended past wrought-iron interior balconies overlooking the central atrium. But the floor is marred by white tape outlines—the figure of a sprawled man amid scattered pieces of iron filigree work and splintered wood. Obviously LT. FRANK HARPER'S work here is almost done. The other officers and the lab technicians are packing up and departing. HARDCASTLE is looking down with pursed lips. McCORMICK is staring up and around at the surroundings in curiosity.
HARPER
We're figuring he took a wrong turn, and walked right over the edge of the balcony at a spot where some other salvager'd already removed enough pieces to weaken the railing.
(beat)
I guess that's what you'd call irony.
HARDCASTLE
And just an open and shut case of trespassing, huh?
HARPER
(mostly convinced)
That's it—no I.D. on him yet, but death by misadventure.
HARDCASTLE
Then how come you're here?
HARPER
Maybe I was about to ask you the same question.
Hardcastle sighs. McCormick steps into the conversation.
McCORMICK
'Cause a mysterious lady called and asked him to look into it. He says they're just "friends".
HARDCASTLE
(scowling at McCormick)
Acquaintances, that's what I said. Not "friends", acquaintances. She was my landlady, for Pete's sake.
HARPER
You want to acquaint me with the lady's name?
HARDCASTLE
Rebecca Harmstead-Pierce. She owns this building. She was worried, that's all.
(beat)
Which brings us back to why you're here—a full-bore press from L.A.'s finest, not to mention the medical examiner's office. The owner says she got the call from one of your guys about 5 a.m.
HARPER
Yeah, the body wasn't cold.
(beat)
Not even cool.
McCORMICK
All this dust. Looks abandoned. Doesn't even look like there's a night watchman.
HARPER
There isn't. The department got one of those anonymous calls. A public phone booth a couple blocks from here.
(shakes his head)
I love this stuff.
McCORMICK
Sounds like someone didn't want someone to get away with murder.
(he looks around again at their surroundings and then, to Hardcastle:)
So this was where your law office was?
Harper looks suddenly interested now, too.
HARDCASTLE
(waving it all away)
Long time ago. Like I said, Mrs. Pierce was my landlady, or at least I was mailing my rent checks to her holding company.
HARPER
You ever meet her?
HARDCASTLE
Once, yeah.
(he makes a face, something indicating displeasure)
Like I said, long time ago. I didn't know the place had fallen on such hard times. I heard there'd been some kind of fire here—that was right after I'd moved out, accepted the judgeship. I would have figured they'd've fixed it up or torn it down. This's—
(a beat and a definite frown)
—like a ghost.
HARPER
(shrugs)
You'd think it'd be worth something, but who knows—the neighborhood's not so hot. Lots of break-ins.
McCORMICK
Yeah, murders, too.
HARPER
(dryly)
That hasn't been determined yet.
(beat)
But I've got everything I need for now. You two gonna hang around here a while?
Hardcastle nods absentmindedly. Mark's already started to poke around, trying the knob on a door marked "Private".
HARPER
I suppose you've got the landlady's permission.
(already heading for the main exit—this last part is tossed over his shoulder)
Will you watch out for the police tape, both of you? It still might be a crime scene.
Mark stands quietly until they hear the panic bar latch behind Harper. The two men are alone. There's a beat, and then,
McCORMICK
So what was that all about?
HARDCASTLE
(distracted)
Huh?
McCORMICK
None of that "huh" stuff, Kemosabe, not when you make a face like that over someone you're doing a favor for. What's the deal? Don't tell me she stood you up at the train station.
HARDCASTLE
Don't be ridiculous. I was a married man when I had an office here.
Mark smiles at this obviously sincere defense. He's already headed for the staircase
HARDCASTLE
Hey, where you think you're going?
McCORMICK
Up. The elevators are out of order.
HARDCASTLE
It's a crime scene, remember?
McCORMICK
I thought you figured it was a "misadventure" scene—though that still doesn't explain how the cops got word so fast.
HARDCASTLE
Maybe the guy must've had a partner in the salvage biz and he phoned it in.
McCORMICK
After he pushed him over the balcony.
(beat)
Anyway, your landlady asked you to check things out—so we should take a look around, right?
HARDCASTLE
She only wanted us to find out what the story was. We already got that from Frank.
McCORMICK
Who knows what Frank might've missed. You're always saying he's overworked.
(he's already half-way up the first flight of steps, leaning over the railing.)
Besides, I wanna see your office. That'd be the holy grail for a poor first-year law student like me. Just think—
(in a hushed and reverent voice)
—where it all began. Milton C. Hardcastle, Esq., working out contracts on the back of a wooden shovel.
HARDCASTLE
(mutters, heading for the stairs)
I'm not the only guy around here with a shovel—
Hardcastle's head is down as he climbs reluctantly and he almost runs into McCormick, who's halted in his tracks at the top of the stairs.
McCORMICK
It really was here.
ANGLE—THE HALLWAY FACING OUT ONTO THE SECOND FLOOR BALCONY
There's a series of doors, with old-fashioned, frosted-glass window in their upper halves. The second one down the hall bears the name 'MILTON C. HARDCASTLE' and under that, 'ATTORNEY AT LAW'.
HARDCASTLE
(stepping around McCormick)
'Course it was. I said it was, didn't I?
(but even he seems a little mystified, it's
like Pompeii—lots of dust, but otherwise intact) Guess they didn't have a chance to rent it out again before the fire happened.
He reaches the door and puts his hand on the knob. It turns in his grip and there's a creaking sound as he pushes it open. Mark's right behind him, trying to get a look over his shoulder.
ANGLE—IN THROUGH THE OPEN DOOR.
There's an outer room, some chairs and an end table—all vintage 1950s—obviously a modest waiting room. On the far wall is another door, already open, and through that we see a desk. There's some odds and ends scattered around—an ASHTRAY containing butts, a telephone directory still open, its yellow pages curling up, next to a black desk TELEPHONE.
McCORMICK
Wow. Kinda messy.
(he maneuvers past Hardcastle and steps inside)
You had to leave town in a hurry or something?
HARDCASTLE
Nah—well, not the 'leave town' part. An incumbent judge passed away suddenly. Everybody was hot on corruption in L.A. right then and here I was, a young guy, with only good clean farm dirt under my finger nails, so the governor gave me the nod.
(beat)
I almost said "no".
McCORMICK
(genuinely interested)
What made you change your mind?
HARDCASTLE
Nancy.
(smiles)
She said I'd be good at it.
Hardcastle meanders into the office. McCormick is on his heels, looking at it all with open curiosity.
McCORMICK
It's not exactly how I'd pictured it.
HARDCASTLE
(surprised that he'd been picturing it at all)
What? You thought I had a corner office in some stainless steel monster in Century City? Those hadn't even been built yet, back then.
McCORMICK
Nah, I wasn't thinking that. The place seems right, but you really were the Lone Ranger—no partner—no secretary even.
HARDCASTLE
Nancy helped with the filing sometimes. She was better at it than I was
McCORMICK
(grins)
I can believe that. I've seen your system.
HARDCASTLE
And I did have a partner—sort of.
McCormick looks surprised.
HARDCASTLE
Not a law partner, exactly. The guy in the next office over,
(points toward one of the walls)
He was a P.I., name of McConnell. Nice guy.
(beat)
Some people think they need a lawyer, when what they really need is an investigator. 'Course most of the time if your investigator does a good job, you're probably gonna need a lawyer afterwards, too. I sent him a fair amount of business, and he returned the favor.
McCORMICK
Quid pro quo.
HARDCASTLE
Referrals—it was all perfectly legit.
McCORMICK
(just to be annoying)
Uh-huh.
(he pauses near the ashtray and glances down)
You guys must've smoked like chimneys.
HARDCASTLE
(shrugs—looking at the ashtray)
Yeah, well, everybody did back then.
McCORMICK
I didn't.
HARDASTLE
You were only three years old.
(he's staring down at the ashtray now)
That's weird.
McCORMICK
What?
HARDCASTLE
(re: one of the butts)
Look at that one.
McCORMICK
Lipstick. Hmm. Your filing system drove Mrs. H. to the nicotine habit, huh?
HARDCASTLE
Nancy didn't smoke.
McCORMICK
Okay, so one of your lady clients got dolled up to go see her favorite lawyer.
HARDCASTLE
It's not the lipstick, dammit, it's the cigarette. It's one of those newfangled women's kind. Look—
(points to the one in question)
it's skinnier and it's white all the way to the filter end.
Mark frowns, still not appearing to get it.
McCORMICK
'Newfangled'? Those have been around since I was a kid.
HARDCASTLE
But not since you were three, just the last 20 years or so—I think they came out in the late sixties.
He's scanning the room more carefully now, like a bear looking for further evidence of Goldilocks.
McCORMICK
(still not impressed)
Okay, so your landlady comes by once in a while for old times' sake.
(beat)
You never did explain why you made that face when Frank asked if you'd met her before.
HARDCASTLE
That was a lot of nothing.
(sighs—knowing McCormick's going to worm it out of him so he might as well get it over with)
She came to me one time, all upset. She was married to this big-time real estate developer and wanted a divorce. I asked her what the grounds were.
(beat)
Back then they still wanted to know about stuff like that in divorce court.
(another sigh, and a frown)
Anyway, she got all huffy with me because I needed know why she wanted a divorce. It was none of my damned business, she said.
McCORMICK
All that's gotta be water over the dam; she called you for help this morning.
HARDCASTLE
Yeah, and as far as I can tell, she's still married to the same guy. Must be hard to give up a real-estate mogul.
(he heads for the door)
As long as we're here we might as well go see where the guy fell from.
McCORMICK
(following him out)
Or got pushed.
ANGLE—FROM THE HALLWAY LOOKING BACK
He doesn't have the key, but Hardcastle shuts the door carefully behind him. Mark waits over by the stairs. He's looking at the door closer to the stairwell. It's stenciled "WILLIAM McCONNELL, PRIVATE INVESTIGATOR"
McCORMICK
That's his, huh?
(he takes a step or two toward it and tries the door)
HARDCASTLE
(growls)
Get outta there.
It doesn't matter; the door is looked. Mark shrugs and steps back to the stairs. He doesn't look very abashed as he starts to climbs.
CUT TO:
INT. THE SAME STAIRWAY WHERE IT EMERGES ONTO THE FOURTH-FLOOR BALCONY
This is the top floor. The skylight overhead is sooty, as though this is where the smoke of that long-ago fire coalesced. Parts of the balcony railing are warped and sagging and one piece is missing entirely. That area is cordoned off with yellow police tape. McCormick arrives first, looking not too winded, eying the balcony underfoot warily, though it seems solid. Hardcastle is right behind him, trudging.
McCORMICK
I wouldn't count on that railing too much if I were you.
HARDCASTLE
(huffing, and huffy)
I don't need no stinking railing to climb a couple flights of stairs.
(beat—looking at the spot beyond the yellow tape)
So this is it.
McCORMICK
Yeah.
(lifting the tape and stepping under it, he surveys the drop)
ANGLE—DOWN INTO THE ATRIUM AT THE TAPED OUTLINE BELOW
It's a sobering distance down.
ANGLE - ON THE BALCONY
HARDCASTLE
Hey, don't mess up Frank's crime scene.
McCormick touches one of the remaining pieces of railing and looks over his shoulder at Hardcastle again, but steps back.
McCORMICK
So, you think it's a crime scene, now, too?
HARDCASTLE
(reluctant)
Yeah, well, a guy breaks in a basement window and then climbs practically to the roof without noticing the things need some maintenance. I think I'll pass on that one for a likely explanation.
(beat)
Maybe he jumped, or maybe he got pushed, but either way I don't think he was in here to steal some doorknobs.
McCORMICK
We're gonna look into it, huh?
HARDCASTLE
Yeah, I got a couple of questions that need answering.
(sniffs)
Come on, let's get out of here. This place gives me the creeps.
Hardcastle turns and starts to trudge down the stairs, being careful not to lean on the handrails. After a beat, McCormick follows.
ANGLE—FROM THE OPPOSITE SIDE OF THE FOURTH FLOOR BALCONY
The POV is from eye-level above the floor, moving toward the railing and then looking down over it. It takes in Hardcastle and McCormick,as they descend the last flight to the ground floor and then cross the lobby. The impression that they are being watched is confirmed by the sound of a slowly exhaled breath. The railing creaks as a hand reaches out to clutch it.
CUT TO BLACK