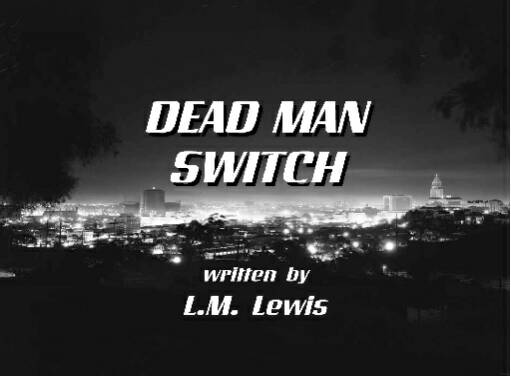 ACT III
September 2, 1986
Rev. September 20, 1986
Author's Note: This is a standard-length script for a one-hour episode of Hardcastle and McCormick, following the format of the original 1983-1986 versions. Because it is intended for readers, rather than a director and actors, some conventions were dispensed with, including the cast and set lists. I've also injected more than the usual number of parenthetical directions—surely the bane of skilled actors everywhere (because there are no actors to annoy here), and I used a minimum of camera angles.
FADE IN:
EXT. A BUNGALOW ON A RESIDENTIAL STREET—DAY
INT. THE FRONT ROOM OF THE BUNGALOW
The camera pans over worn furniture. As we're getting hints that it's been ransacked, sounds of similar activity are heard from another room. The pan continues, past a photo of two men, one hulking above the other but both looking related, then into a hallway.
ANGLE—THROUGH A DOORWAY INTO A BEDROOM
It's a minimally decorated room, nothing frilly. The only light comes through a closed window. A man has his back to the camera as he rifles through drawers hurriedly. At the sound of car doors slamming outside, he straightens and half-turns. It's LAWRENCE PIERCE. He stiffens as we hear the front door opening.
COP (V.O.)
(muffled, but he sounds brusque)
If you think of anything else, let us know.
SCHAUM (V.O.)
Uh-huh.
ANGLE—FROM THE HALLWAY INTO THE FRONT ROOM
PETE SCHAUM is entering. Through the front door we see the back of the cop as he departs. Schaum closes the door, then turns, raises his eyes, and takes in the room for the first time. He looks startled, then, after a beat, he rushes into the hallway and toward the bedroom.
ANGLE—SCHAUM, IN THE BEDROOM DOORWAY, PANTING
ANGLE—SCHAUM'S POV
The room has been thoroughly ransacked. The only motion is from the curtains, billowing inward in the gentle breeze from the open window.
CUT TO:
EXT. GULL'S WAY—DAY
INT. CLOSE-IN ON McCORMICK'S FACE
He looks the worse for wear. His eyes open slowly, then blink shut again, as though that part hurt some.
ANGLE—PULL BACK TO REVEAL WE'RE IN THE DEN.
McCORMICK is on the sofa, ice bag on his head. HARDCASTLE occupies a chair nearby, and he's clearly not very pleased.
HARDCASTLE
So,
(he's been telling this story for a while and most likely McCormick didn't get much out of it the first couple of rounds)
when you didn't show up I got myself in and went looking for you. Found you out cold at the bottom of the basement stairs.
(beat)
That'll teach you to trust the railings.
McCORMICK
(irate and squinting now)
I don't need no stinking railings to climb a flight of stairs.
(beat)
I was knocked down. Someone opened the door at the top of those steps.
HARDCASTLE
That's what you said before, but you were kinda out of it. It might've been a draft—big building like that and the boards were off that window.
McCORMICK
It wasn't you then?
HARDCASTLE
'Course not, I was outside.
McCORMICK
(more alert now)
How'd you get in? Don't tell me—you pulled those burglar bars further apart with your bare hands. They say people can perform amazing feats of strength when they're scared.
HARDCASTLE
I wasn't scared. I figured you ran into something down there—I've seen you trip over a six-inch flowerpot, kiddo. Anyway,
(beat)
your toolkit was in the glove compartment.
McCORMICK
(eyes slightly wider)
My picks?
HARDCASTLE
Yeah, your picks. I dunno why you leave 'em in there.
McCORMICK
(practical)
For emergencies—like this one.
(beat)
And aren't you glad I taught you how to use 'em?
HARDCASTLE
No.
McCORMICK
But you picked the lock.
(smiles wryly at the thought)
HARDCASTLE
I had to. You left me standing out on the street. How the hell else was I supposed to get in when you didn't show up? It was flagrant necessity.
McCORMICK
It was very thoughtful.
Play the moment, then:
THE DOORBELL RINGS.
Hardcastle looks puzzled and then lumbers to his feet, glancing out the den window.
ANGLE—THROUGH DEN WINDOW TOWARD FRONT STEPS.
Rosie Carlucci is standing there, looking somewhat out of her element. She's reaching for the bell again.
ANGLE—PULL BACK TO HARDCASTLE'S REACTION
HARDCASTLE
(to McCormick)
Rosie?
McCormick shrugs and readjusts the icepack. Hardcastle hustles for the door.
HARDCASTLE
(hollers)
Coming!
ANGLE—THE HALLWAY LOOKING TOWARD THE DOOR
Hardcastle is fumbling with the latch and gets it open. Rosie's right there, file under her arm.
HARDCASTLE
(baffled but pleased)
Rosie, come on in.
Carlucci steps by him. From the way she's looking around, we can assume this is a first-time visit. Hardcastle ushers her toward the steps and down into the den.
ANGLE—ALL THREE, IN THE DEN
McCormick waves the ice pack in a little jaunty salute. Carlucci doesn't look all that surprised. Hardcastle pulls a chair over for her and she sits.
HARDCASTLE
You didn't have to come all the way out here.
(polite interlude over, now he leans forward, all anticipation)
Whatcha got?
CARLUCCI
(not quite ready, she's got a bone to pick)
I've been trying to reach you.
McCORMICK
Sorry, we were out getting pushed down stairs and picking locks.
CARLUCCI
(sighs like that's par for the course)
Well, we civil servants may work miracles, but only from 9 to 5. It's half-past five, guys. Lucky for you I was on my way home—
(beat)
and I always wanted to see what kind of a place you get for $4000 a year in property taxes.
Carlucci looks around with obvious curiosity.
HARDCASTLE
(hating to interrupt, but increasingly impatient)
That file?
Hardcastle is on his feet as Carlucci leans forward and spreads the contents on the coffee table.
CARLUCCI
William McConnell's record ends in 1958.
(beat)
He just dropped off the grid. No more Social Security quarters. No renewals at the D.M.V. or with the state bureau for private investigators. No death certificate. Just, poof.
(sigh)
I hate it when that happens. Not even a missing person's report.
HARDCASTLE
For that you need somebody to miss you. I don't remember Bill having any family.
(he's in silent thought for a moment, then recollects himself with a shake and says:)
Thanks, Rosie.
Carlucci is on her feet. Hardcastle sees her to up the steps to the hall, respectfully affectionate.
ANGLE—THE HALLWAY LOOKING TOWARD THE DOOR
Hardcastle opens the door for her.
HARDCASTLE
I meant that—thanks—you're a miracle worker.
CARLUCCI
For you, Milt, anytime—
(beat)
between 9 and 5.
HARDCASTLE
I owe you.
CARLUCCI
You always owe me.
Hardcastle gives her a peck on the cheek and she steps through the doorway. He closes it behind her and turns, standing for a moment with his back to the door, looking thoughtful again. Maybe it isn't entirely about the case.
HOLD THAT, AND:
ANGLE—IN THE DEN,
Hardcastle walks back in. McCormick is still on the sofa, but sitting up, looking at Rosie's hoard.
McCORMICK
So where'd he go?
(beat)
The witness protection program, maybe.
HARDCASTLE
(shakes his head)
It wasn't around back then.
McCORMICK
Alien abduction?
There's no response to that. After a long beat McCormick throws in the towel.
McCORMICK
Then he was killed—and whoever did it kept it off the record. No body, no investigation. In the fire or right before it.
HARDCASTLE
It's hard to destroy a body that way. Takes a heck of a lot of heat.
McCORMICK
There's a lot of char in that basement. What's left of Bill McConnell might not be the kind of evidence one person could clean up without attracting attention.
(beat)
But if that's what happened, then how come the original investigators didn't find any evidence of arson?
HARDCASTLE
(he sits on the edge of his chair, paging through the ephemera of a man's life absently for a moment, then sighs)
Well, that—like I said, lots of corruption back then. You could buy just about anything. An investigator like that wouldn't even be real pricey.
McCORMICK
Your landlady bought one?
HARDCASTLE
(looks doubtful)
I didn't get along with her all that well, but, hell, she's the one getting paid rent for an empty hulk. I vote for Pierce.
McCORMICK
(raises his hand with ice bag)
Seconded.
(beat)
But that means she knows about it—she's collecting money for keeping her mouth shut about what's down there.
(frowns)
You know, we're not set up to deal with dental crowns and belt buckles. We're gonna need Frank and the lab guys.
HARDCASTLE
And Frank'll need more than Rosie's say-so. Absence of proof is only proof of absence—
McCORMICK
—Not proof of murder.
(thinks something over for a moment, then tries it out loud)
Bill might not have any next of kin,
(beat)
but Harry does. What do ya wanna bet that Harry's brother was the silent partner last night?
HARDCASTLE
The one who phoned it in to the cops? I'd give that better than even money.
He's on his feet, crossing to behind his desk. He yanks open a bottom drawer, pulls out a telephone directory, and thumbs it open.
HARDCASTLE
Frank said the brother's name was Pete.
(he thumbs through two more pages and then runs his index finger down a column, landing with a quick, victorious jab on his target)
There—just one and he's right over in Highland Park.
(looks up with a grin)
Wanna come?
Hold, then:
CUT TO:
EXT: SCHAUM'S BUNGALOW—EVENING
PETE SCHAUM is hustling out of the house, heading toward a junker of a car with a shoebox-sized cardboard box under one arm and a suitcase in the other hand. A truck cruises down the street, slow, no details visible in the gathering dusk. Schaum halts, looking wary.
ANGLE—THE HEADLIGHT BEAMS CROSS SCHAUM
Schaum squints, the suitcase drops as his grip loosens and he raises his hand to shield his eyes. He looks terrified as the vehicle pulls into the driveway right next to him. Now we can see it's the GMC. The headlights and engine cut out. Schaum looks as if he's poised to bolt, but before he can make a move the passenger door is flung open and McCORMICK is in his way. Schaum stands a half a head taller than McCormick, and half again as wide, but from his body language he seems more like Lennie, from Of Mice and Men. Now that Harry's gone he's lost his pole star, and he's afraid.
McCORMICK
Pete Schaum, right?
There's no response except that Schaum is now backing up slowly.
McCORMICK
(wearily—not really threatening)
Look, I've had a rotten day and it looks like you have, too. Don't make me run after you. All we want to do is ask you a couple of questions.
HARDCASTLE is now visible on the far side of the truck, quickly assessing what McCormick might be up against and just as quickly standing down. Schaum's no threat.
SCHAUM
(looks back and forth between the two men)
You guys cops? I already talked to the cops.
HARDCASTLE
Uh-uh.
He was hoping to be reassuring. It's failed. Schaum stiffens up again.
SCHAUM
(anxiously)
He sent you.
(he's taken another step back and really looks like he's ready to bolt)
McCORMICK
We're not from Pierce, either.
(he keeps his hands out from his sides slightly, his stance loose, and his tone persuasive)
We're just a couple guys trying to find out what happened to your brother. You know something happened, right? You said you talked to the cops?
SCHAUM
Yeah,
(wipes his face with the back of his hand)
I did.
Schaum appears more disconsolate than afraid. McCormick shoots a quick look at Hardcastle and gets a nod in return.
McCORMICK
(edging in closer to Schaum, keeping his voice low)
I don't think we should stand around out here. I think we oughta go inside and talk about it.
McCormick has one hand on Schaum's shoulder (and he's reaching up a little to do it), but Schaum has stopped backing off.
McCORMICK
Come on. Just talk, that's all. You can tell us all about it.
McCormick guides him toward the house. Schaum is still clutching the cardboard box under one arm. Hardcastle waits a beat and then scoops up the suitcase and follows. He darts a quick look back behind him, both ways down the street, sees only a couple of cars parked there, then climbs the porch steps and is the last one to enter the house.
CUT TO:
INT. SCHAUM'S KITCHEN—EVENING
It's messy, even for bachelor digs, with the ransacking on top of what must have been pretty lousy baseline housekeeping skills. McCormick parks Schaum in a chair at the table, and pushes some papers off another chair, before taking a seat across from him. Hardcastle puts the suitcase down by the wall as he walks in from the front room. He stays slightly in the background, leaning against a counter.
ANGLE—McCORMICK AND SCHAUM AT THE TABLE
McCORMICK
(quietly)
Tell us what happened.
Pete Schaum fidgets like a kid and glances up guiltily, then starts telling the story to the table top in front of him.
SCHAUM
Harry, he said we'd make a killing.
(he winces slightly at the choice of words)
He said he knew stuff about Mr. Pierce, stuff that we could make money off of.
ANGLE—INCLUDES HARDCASTLE, STILL STANDING BY THE WALL
HARDCASTLE
He didn't mean real estate tips, something like that?
Schaum looks back at him, as if he'd forgotten he was there. He looks confused. McCormick reaches out and taps Schaum's hand, focusing him again.
ANGLE—McCORMICK AND SCHAUM
McCORMICK
Did your brother tell you what he knew about Pierce?
Schaum shakes his head.
McCORMICK
But you were there at that building last night.
There's a beat, a guilty look on Schaum's face, and then he nods.
McCORMICK
(gently again)
What happened?
SCHAUM
(a beat, then he starts to spill it)
I pulled the bars apart. Harry went in. He said I was supposed to wait there and he'd be right back. I waited, like he said, and—
(his voice catches)
And then I heard him scream.
McCORMICK
You couldn't get in. The bars…
SCHAUM
I tried.
(beat)
I didn't know what to do. I shoulda busted a door down or somethin'.
(he slaps his forehead on that last word with the palm of his hand. It becomes rhythmic, punctuating the following words, each one harder than the one before)
Harry, said, I, couldn't, do, nothin', right—
Mark grabs for his wrist on the last blow. It looks like a dicey proposition, but Schaum seems to emerge from his trance and just stares at him.
McCORMICK
(trying for a calm tone)
You went for help?
SCHAUM
(now resigned)
I ran away, 'cause I'm chicken. Harry said I'm a big chicken.
(beat)
The cops said he mighta killed himself.
(more certain)
Harry didn't do nothin' like that. Harry was gonna make a killing. That's what he said. We were gonna take the money and get out of here. Buy a ranch or something.
(beat)
A cop came here. He said Harry was dead. He said I had to go look at his body—make sure it was him.
McCormick looks appalled as he pictures this.
SCHAUM
They say he jumped, or maybe he fell. I don' think it happened like that. I heard Harry scream…he screamed and then it stopped.
(beat)
And then I didn't hear nothin' else.
McCormick lets go of Schaum's wrist and gives his arm a couple pats. He rises from the table. Schaum remains, hunched and silent.
ANGLE—McCORMICK, CROSSING TO WHERE HARDCASTLE STANDS
McCormick leans in, now in close conference with Hardcastle. Schaum is still at the table, oblivious to everything but his misery.
McCORMICK
I don't think he knows anything. We're back to square one.
HARDCASTLE
(quiet)
Maybe.
(to Schaum)
So you're the guy who phoned it in to the cops last night.
Schaum nods.
HARDCASTLE
You did a good thing. I don't think there was anything else you could've done.
(beat)
How come you were packin' up to leave tonight?
ANGLE—SCHAUM
He looks over his shoulder nervously at Hardcastle but says nothing.
HARDCASTLE
(cocks his head back at the front room)
Looks like maybe you had a visitor while you were over at the morgue.
SCHAUM
(reluctant)
Yeah, maybe.
HARDCASTLE
(casually)
Did they take anything?
Schaum doesn't answer but he's got one arm still wrapped around the cardboard box in his lap.
HARDCASTLE
(still casual)
Whatcha got there?
Schaum frowns, says nothing, clutches the box tighter.
HARDCASTLE
It's your brother's stuff, huh? He hid it somewhere. Maybe he didn't even know you knew about it.
(beat)
You know, if we can figure out what Harry knew, then maybe we can figure out why he died.
Schaum frowns, but at least he's thinking about it.
McCORMICK
(to Hardcastle—quietly puzzled)
Who killed him, Pierce?
Hardcastle lifts his shoulders to indicate he doesn't know. He never takes his eyes off Schaum and the box. Schaum suddenly lets out a short sigh and puts the box on the table, pushing it away with one hand.
SCHAUM
We were gonna buy some land. A ranch, maybe.
ANGLE—HARDCASTLE MOVES IN ON THE BOX WITH McCORMICK A HALF STEP BEHIND.
Hardcastle lifts the lid off, reaches in, and pulls out a handful of small papers, studying the one on top.
INSERT—A VINTAGE CANCELLED CHECK
Circa 1958, it's drawn on Pierce's private account and issued to someone named James Trobelt for five-hundred dollars. We hear a low whistle from Hardcastle.
ANGLE—McCORMICK LOOKING OVER HARDCASTLE'S SHOULDER AT THE PAPER
McCORMICK
And this is important because—?
HARDCASTLE
Because back in the '50s James Trobelt was also known as "One-Match Jimmy"—suspected arsonist, but never convicted.
McCORMICK
So he's the guy Pierce hired to torch his wife's building.
HARDCASTLE
Looks that way, though most of the jobs they thought Jimmy had a hand in were four-alarm fires, nothing left standing. There usually wasn't even enough evidence to charge him.
McCORMICK
Anybody can have an off day.
(beat)
So he screwed up, and Pierce had to pay off the arson investigators and take a pass on the insurance payout.
HARDCASTLE
He was never in line for a payout—not directly, anyway. His wife was the owner—so she was only one with standing to insure.
(a side thought—half to himself)
And then Jimmy got out of the arson biz.
McCORMICK
Huh?
HARDCASTLE
(beat)
Oh—I was just tryin' to remember if I ever heard any more about ol' Jimmy after about the late '50s. I wonder what happened to him.
McCORMICK
Rosie could probably find out.
HARDCASTLE
Nah, it's after 5.
(he paws through the box a little more and pulls out a set of larger papers—four pieces in a trifold—he unfolds them)
Huh. Well look at this.
McCORMICK
(peering)
Floor plans? Don't tell me—the Harmstead Building.
HARDCASTLE
Yup,
(shuffling through them, quickly)
All four floors, and look here.
(he holds out the second sheet)
A circle around one of the offices.
McCORMICK
Is that like "X marks the spot"?
HARDCASTLE
(staring at the diagram)
It's Bill McConnell's office.
(beat)
I dunno what's going on, but the answer's back in that building.
ANGLE—INCLUDES SCHAUM
He's still sitting dejectedly at the table, ignoring the other two men. McCormick looks at him consideringly and then hooks a thumb in his direction.
McCORMICK
(to Hardcastle)
We can't leave him here. Pierce might send some guys back to shake him down.
(to Schaum)
Hey, Pete?
Schaum looks up dazedly.
McCORMICK
Wanna go for a ride?
CUT TO:
EXT. THE DRIVEWAY OF THE BUNGALOW—NIGHT
The three men emerge from the house, McCormick ushering Schaum, Hardcastle bringing up the rear. They climb into the truck with McCormick behind the wheel.
ANGLE—FROM INSIDE A CAR FURTHER DOWN THE STREET
It's a dark-colored late-model luxury sedan, a Lincoln, maybe. From the driver's seat someone is watching the truck. A leather-gloved hand lifts a car phone receiver and punches in a number.
ANGLE—THE DRIVER
It's Lawrence Pierce, tight-lipped and seething as he waits for an answer. There's a beat and then someone must have picked up on the other end.
PIERCE
I told you to call those two off and you said they weren't working for you.
(beat, but not long enough for the party on the other end to get anything in edgewise)
You're still a lying, two-faced—
(cuts himself off)
Dammit.
EXT. THE DRIVEWAY IN FRONT OF THE BUNGALOW
The truck is backing out.
RESUME—IN CAR
PIERCE
(to phone—angrier still)
I don't care what this Schaum character said to them—I didn't send his brother in there and I never went back on our deal.
(half-beat)
But I'll be damned if I'll stand by when you've decided to take me down. I'll do whatever I have to do.
(slams the phone down and puts his car in gear)
EXT. THE STREET
The truck has finished backing out and now is heading down the street. The car pulls away, follows briefly, then turns off at the next corner, accelerating.
INT. THE TRUCK
McCormick leans forward slightly, looking into the rearview mirror.
HARDCASTLE
What?
McCORMICK
Hm?
(shakes his head and leans back)
Nothing.
Hardcastle glances over his shoulder.
McCORMICK
No, really, nothing. I thought I saw somebody but he wasn't following us.
CUT TO:
INT. REBECCA HARMSTEAD PIERCE'S BEDROOM - NIGHT
She's still clutching the phone receiver speaking into it urgently.
HARMSTEAD PIERCE
Larry, listen to me.
It's obvious from her expression that no one at all is listening; she hangs the receiver up slowly, then hastily picks it up again and dials another number.
INT. THE HARMSTEAD BUILDING—NIGHT
On the second floor atrium balcony, in front of the door to Hardcastle's old office. We hear the sound of a phone ringing and, at the end of the first ring—
CUT TO BLACK