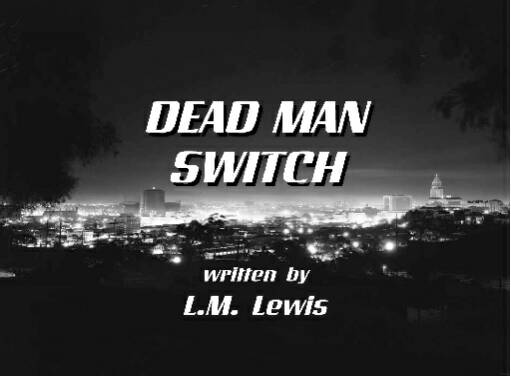 ACT IV
September 2, 1986
Rev. September 20, 1986
Author's Note: This is a standard-length script for a one-hour episode of Hardcastle and McCormick, following the format of the original 1983-1986 versions. Because it is intended for readers, rather than a director and actors, some conventions were dispensed with, including the cast and set lists. I've also injected more than the usual number of parenthetical directions—surely the bane of skilled actors everywhere (because there are no actors to annoy here), and I used a minimum of camera angles.
FADE IN:
EXT. THE HARMSTEAD BUILDING—NIGHT
Close in on the same carved stone name as in the opening scene, but this time we hear—
McCORMICK (V.O.)
You didn't bother to lock up after yourself?
ANGLE—THE CAMERA PANS DOWN TO THE DOORWAY BELOW
McCORMICK has obviously just tried the front door latch and found it open. He's slipping his lock pick case back into his pocket. PETE SCHAUM is a few feet to his left, looking distracted. HARDCASTLE next to Schaum, shrugs.
HARDCASTLE
I don't think you showed me how to do that yet.
Mark casts him a disbelieving look as he holds the door open for Hardcastle and Schaum to pass inside. There's some sort of easy spring bolt which he engages as he lets the door fall shut behind him.
McCORMICK
There. Lockpicking 101. Leave things like you found them. Anybody could have wandered in here.
INT. THE HARMSTEAD BUILDING—NIGHT
A close shot of the three men, Hardcastle and McCormick shoulder to shoulder with Schaum hulking a little behind them.
ANGLE—CAMERA PULLS BACK
They're in the shadowy interior of the building's atrium. The only light comes from the skylight above—moonlight through dirty glass. The iron railings cast shadows. The shadows are deeper still under the balconies. Mark looks nervous as he flicks on a flashlight.
McCORMICK
Where to, Kemosabe?
HARDCASTLE
"X marks the spot."
(heading for the stairs up)
Watch the railings.
Mark trots after him. Schaum lumbers along behind.
ANGLE—THE HALLWAY FACING OUT ONTO THE SECOND FLOOR BALCONY
Hardcastle emerges from the stairway, McCormick and Schaum behind him. Mark, with the flashlight, edges by him, lock-pick case out again, he passes the flashlight to Hardcastle and stoops in front of McConnell's office door. He puts his free hand on the old-fashioned lockset. The door gives, slightly but visibly. McCormick freezes, then casts a sharp look up over his shoulder at Hardcastle.
HARDCASTLE
Not locked?
McCORMICK
Not anymore.
(beat)
Don't tell me you were making a mess of things up here, too.
HARDCASTLE
Uh-uh. I went straight to the basement and scraped you off the floor.
McCormick stands and takes the knob in hand, pushing the door open cautiously. It's dark inside.
ANGLE—FROM WITHIN McCONNELL'S OFFICE
McCormick and Hardcastle crowded together in the doorway, Schaum again lurking just behind. Hardcastle feels for a light switch next to the jamb and flips it on. There's a sudden flood of light from an old-fashioned overhead fixture.
HARDCASTLE
Somebody's still paying the utility bills.
ANGLE—CAMERA PULLS BACK TO INCLUDE THE OFFICE
There's the same layout as Hardcastle's former rooms next door but here's there's more clutter. It looks occupied. The anteroom is full of odds and ends, most of which look as though they might have been scavenged from the building. There's an old sofa against one wall and a battered pillow at one end of that.
McCORMICK
(somber)
Looks like there's a night watchman after all.
(beat, then indignantly)
I told you somebody pushed me down those stairs.
From Hardcastle there is only a noncommittal grunt.
ANGLE—HARDCASTLE, MOVING INTO THE BACK ROOM
There's a desk, much like the one we saw in Hardcastle's office but more cluttered, and not with office supplies. We see the remains of a half-eaten meal there as well. Hardcastle reaches for a piece of paper, lying amidst the detritus.
HARDCASTLE
(having given it a quick, hard stare)
Hey, look at this.
McCormick joins him, looking at the paper Hardcastle is holding out.
INSET—A FLOOR PLAN LABELED "BASEMENT"
There's an area circled by a later hand.
ANGLE—HARDCASTLE AND McCORMICK
McCORMICK
"X marks the spot"?
HARDCASTLE
(pulling a sheaf of papers from his jacket pocket and doing a quick comparison)
They match. Looks like part of the set.
SCHAUM
(now slightly more engaged, he's come close enough to see)
That's Pete's. He had it.
HARDCASTLE
(sharply)
Last night?
Schaum nods.
HARDCASTLE
When you heard him scream, did it sound like it was very far off?
Schaum doesn't have to think about this. He shakes his head quickly.
SCHAUM
No. Loud.
McCormick is leaning over, looking at the paper again. He reaches out, tapping the middle of the page with his finger.
McCORMICK
There. Maybe. It's circled. It must be where he was headed.
Hardcastle nods grimly.
HARDCASTLE
"X marks the spot".
(beat)
Wonder what he found.
He stuffs the papers into his jacket pocket. McCormick is already heading for the door with Schaum tagging after.
ANGLE—THE CAMERA FOLLOWS AS FAR AS THE ANTEROOM
Hardcastle is the last to reach the doorway to the hallway. He turns, surveying the office one more time with a flat expression, then reaches for the switch and flips it off.
CUT TO:
EXT. THE STREET OUTSIDE—NIGHT
The Harmstead building is in the distance down the street, perhaps a block away, but distinctive for its darkness. An older model luxury sedan, a cream-colored Cadillac, drives into view, moving slowly, then stopping as it pulls even with a parked sedan. It's the Lincoln we saw on Schaum's street: Pierce's car. It's empty. The Caddy lingers for a moment then moves on, only to pull in abruptly at the next empty stretch of curb, kitty-corner from the Harmstead building. The driver emerges. It's REBECCA HARMSTEAD PIERCE, her coat collar turned up. She glances around nervously and then crosses the empty intersection, her high heels clicking on the pavement.
CUT TO:
INT. THE ATRIUM—NIGHT
The POV is from the fourth floor balcony, opposite the stairs, looking down toward them. We see the beam from a flashlight in the stairwell, three floors below, stabbing the gloom here and there as the three men descend, then McCORMICK, HARDCASTLE, and SCHAUM cross the atrium floor purposefully and are lost from sight below the balcony.
ANGLE—CAMERA PULLS BACK
We see a man from behind, clutching the balcony railing. He stays frozen for a moment longer, still looking down into the atrium. Then he turns to his left. We catch just a glimpse of the right side of his face in the moonlight before he moves off camera. He's not Pierce.
CUT TO:
INT. THE BASEMENT—NIGHT
A crack of light illuminates a set of stairs. A door is opening at the top. This is the same staircase McCormick started to ascend earlier that afternoon. This time McCORMICK steps through, holding the flashlight above shoulder level, to maximize the visibility. He descends warily. SCHAUM is a few steps behind, looking anxious. HARDCASTLE brings up the rear. He has the paper out again and is shining a small penlight on it. The other two look to him. He glances up to orient himself in the gloom and then gestures sharply to the left with the penlight.
CUT TO:
INT. THE ATRIUM—FIRST FLOOR—NIGHT
In the shadows a darker shadow moves. It's the shape of a man and as he steps forward into the moonlight we see that it is PIERCE. He's holding a handgun. He starts for a door marked "BASEMENT". There's a slight noise from somewhere above. He freezes but doesn't hide. He raises his head slowly and the barrel of the gun comes up reflexively as well.
ANGLE—ON PIERCE
The moonlight shows us an expression that shows more anger than fear. His gaze searches for the source of the sound.
RESUME—THE BASEMENT
Alternately illuminating the paper and his path, HARDCASTLE leads the intrepid band deeper into the murk. He halts suddenly, checks his position again, and then frowns.
HARDCASTLE
Here's the spot—where's the "X'?
(beat)
Anyway, there's supposed to some kinda coal storage room here. It's a sub-basement with a boiler in it.
McCORMICK
And an opening? Look—
(he shines his flashlight down and a little ahead—we see the slab of iron, about six by eight feet)
Hardcastle moves toward the darker edge that McCormick's beam briefly picked out. It's the spot where the plate was shifted sideways a few inches the night before. Hardcastle gestures to Schaum to lend a hand. The big man crouches at one end, curls his fingers under the edge, strains, and then shoves it a foot further with one heave. The slab falls back, sending a puff of black dust—soot or coal—into the air. The three turn away, hacking, but after a moment McCormick wipes his eyes and shines his flashlight down.
ANGLE—McCORMICK'S FACE
Surprise, followed by horror.
ANGLE—PULL BACK
Hardcastle has joined McCormick at the edge and looks down. His expression is grim.
ANGLE—THROUGH THE OPENING, INTO THE SPACE BELOW
It's been there a long time, long enough that the body, crumpled at the foot of a ladder, is skeletal, where it isn't carbonized or concealed by partly burned clothes. It's going to be tough for the M.E.s office to do an identification. But the cause of death is apparent: the sharp end of a long metal pry bar protrudes from torso. There's a sudden, startling sob.
ANGLE—THE EDGE OF THE PIT
Schaum is looking down now, too, and it is all obviously too close to home for him. His sobs are coming faster and it somehow doesn't seem incongruous, now that we know him a little. McCormick turns, takes his upper arm and starts to steer him away. Hardcastle's still looking down into the hole, pointing his penlight here and there, looking puzzled. McCormick has gotten Schaum a few feet back from the edge, walking him slowly. McCormick freezes suddenly, then raises his head slowly, looking up and shining his flashlight in the same direction. It's just a blackened basement ceiling.
HARDCASTLE
What?
McCORMICK
Did you hear that?
(beat)
Shh.
Even Schaum's halting sobs stop. The three men freeze for a moment and we hear it—distant sounds, perhaps thumping, as though someone might be running somewhere above them. McCormick hustles back toward the stairs, Hardcastle's right behind him. Schaum, left standing alone, heaves one more shuddering sob, casts a wary look toward the pit, and lumbers off after them.
CUT TO:
INT. THE ATRIUM—FIRST FLOOR—NIGHT
Things are brighter now. The moon must be directly overhead, above the skylight. We're outside the door marked "BASEMENT" and it's opening away from the camera. McCORMICK is the first one through, with HARDCASTLE behind him. They're barely though the door before we hear a shout.
PIERCE (V.O.)
Who are you, dammit?
There's the sound of pounding footsteps, much louder now. It's someone taking the stairs upward at the double, hard enough to reverberate in the ironwork. Hardcastle pockets his penlight and paper and pulls out his handgun, though it sounds as if whoever's on the stairs is going up. Then the pounding stops.
PIERCE (V.O.)
(in ghastly astonishment)
You?
(low, angry, but not as loud)
You're supposed to be dead.
That's enough for Hardcastle. He's heading for the atrium stairs. McCormick, armed with a flashlight, makes a grab to halt him, maybe to discuss things but, no, Hardcastle's already gone. McCormick heaves a sigh, takes off right behind him and reaches the stairs at nearly the same time.
ANGLE—THE STAIRCASE
Hardcastle and McCormick start their ascent, trying to be both stealthy and fast. We still can't see what's going on above.
PIERCE (V.O.)
The bitch lied to me. She said you were dead.
(in the silence we hear the rachet of a semi-automatic being chambered)
She lied.
There's a sound from below, a door opening and a woman's heels on the floor.
HARMSTEAD PIERCE (V.O.)
Larry, no!
ANGLE—DOWN AT THE FIRST FLOOR FROM MIDWAY UP
REBECCA HARMSTEAD PIERCE is standing there, in a puddle of moonlight, staring up.
ANGLE—UP TOWARD THE FOURTH FLOOR BALCONY
LAWRENCE PIERCE has heard her. He turns, leaning against the balcony and looking down. He is shadowy, with what light there is coming from behind him. There's a sneer in his laugh.
PIERCE
I'm done listening to you. This ends now.
(even in the shadows we see a glint of moon-light off the gun he's pointing down at her)
There's another guttural shout, and then Pierce half-turns as we hear something heavy colliding with him from behind. The railing he is leaning against groans and is visibly bent by the force of the weight against it. Pierce, still grasping his gun, struggles with a shadowy figure. A shot goes off from the gun in Pierce's hand, the bright blaze from the barrel illuminating the two men for an instant. We see a glimpse of the other man's face. It's hardly human.
ANGLE—THE TOP OF THE STAIRWELL WHEN IT EMERGES ON THE FOURTH FLOOR BALCONY
McCORMICK obviously seized the lead somewhere in the race to the top. He arrives just in time to see the two figures locked in a death struggle that ends when Pierce goes smashing through the already damaged portion of the railing, plummeting down. The man who was grappling with him grabs for a bent iron spindle, dangling. McCormick reaches him, latches onto his arms, and heaves him back up onto the balcony. The man lies there, panting, the left side of his face resting on the floor. HARDCASTLE comes up, also panting. He crouches, staring at the man McCormick saved.
HARDCASTLE
(obviously handicapped by poor lighting and the passage of decades)
Bill? Bill McConnell?
McCONNELL closes his eyes. He sighs audibly and opens them again. There's a beat before he makes eye contact with Hardcastle.
McCONNELL
Yeah, it's me. Long time, Milt.
(beat)
I mean, Judge Hardcastle.
HARDCASTLE
(ignoring the formal address)
What the hell happened?
McConnell doesn't answer right away. Instead he lifts his head slowly off the floor, his full face now visible, or what's left of it. The left side looks like a smeared oil painting, his teeth bared by the destruction of tissue. Only wisps of hair remain on the left side of his scalp. The rest is scars. The whole thing is made more dreadful by the relative preservation of the other half of his face, though now it's clear that there are burn scars there, too. McCormick can't quite stifle a gasp.
HARDCASTLE
How—?
His question is interrupted by a woman's footsteps on the stairs.
ANGLE—BACK TOWARD THE STAIRWAY
REBECCA HARMSTEAD PIERCE emerges onto the balcony, looking terrified. McConnell is up on his knees, and she rushes forward as he staggers to his feet. McCormick barely has a chance to get out of the way before she sweeps into McConnell's arms, with a cry of relief.
HARMSTEAD PIERCE
(muffled, into McConnell's shoulder)
Did he—?
McConnell says nothing, still clinging to her.
McCORMICK
(very definite)
He fell. I saw it.
HARDCASTLE
(looking down over the edge)
I'd kinda like to know what's going on here.
ANGLE—DOWN OVER THE BALCONY TO THE FIRST FLOOR
Pierce is sprawled there, about ten feet to the right of the original tape marks. He's dead-still, with his neck bent at an odd angle.
CUT TO BLACK:
FADE IN:
INT. HARMSTEAD BUILDING—NIGHT
We're in Hardcastle's former office, and every spare chair has been rounded up from the waiting room. They're all occupied. HARDCASTLE is behind his old desk, leaning back in his chair, looking like he never left. FRANK HARPER is in another chair just off to his right, wearing an expression of chagrin because he really hates being left out of two-and-a-half acts. McCORMICK is on Hardcastle's left, keeping PETE SCHAUM from getting too jittery. McCormick's gonna make a great dad someday. He might even buy his kids rabbits. In the two hot seats, facing the desk, are BILL McCONNELL and REBECCA HARMSTEAD PIERCE. And nobody's summoned any lawyers yet.
HARPER
—And the body down in the basement?
McCONNELL
That's a man named Jimmy Trobelt.
HARDCASTLE
(to Harper)
One Match Jimmy, remember him?
HARPER
(a little "ah" of recognition followed by:)
Think the M.E.s going to be able to do a positive?
HARDCASTLE
We've got a check with his name on it from Larry Pierce, dated not long before the fire.
HARPER
(to McConnell, matter-of-factly)
So, you killed him?
HARMSTEAD PIERCE
(interrupting with a look of alarm)
No, he didn't! Larry sent Jimmy to torch this building.
HARPER
Why?
HARMSTEAD PIERCE
Because it was mine. Because it meant something to me. Larry hated anything he couldn't control, and when he finally figured out he couldn't control me, he tried to destroy everything that I loved.
HARPER
(to McConnell)
You didn't kill Trobelt, not even in self-defense?
Harmstead Pierce opens her mouth to speak again. McConnell puts a hand out, over hers and squeezes lightly.
McCONNELL
(to her)
I want to tell him.
She looks at him with a worried expression.
McCONNELL
(to Harper)
Rebecca—Mrs. Pierce—came to me. She was having problems with her marriage. She suspected her husband was using arson for profit, but not for the insurance.
(beat)
His system was to torch places whose owners were in his way. He'd cripple their cash flow so they'd have to sell him what he wanted—a real fire sale. I told Rebecca he he was too well-connected. We'd never pin anything on him and she ought to just divorce him. She had this building and a mansion her father left her. She'd be okay. I sent her to you, Milt.
HARDCASTLE
Why the hell didn't you tell me what was going on?
HARMSTEAD PIERCE
I didn't trust you—then when you got offered that judgeship, right after I'd talked to you, I was sure Larry had found out I'd gone to you, and pulled strings to get you out of the way.
ANGLE—HARDCASTLE
He looks stunned.
McCONNELL
And then it was too late. You had moved out. Things were closing in fast. We didn't know who we could trust.
HARMSTEAD PIERCE
Larry tried to get me to sign over this building. I refused.
McCONNELL
We thought if he couldn't take it from her, he might torch it, same as he had the others. She couldn't trust security guards; Pierce bought city councilmen, for crissake.
(beat)
So, I started staying here.
There's an awkward silent pause.
HARPER
(prodding)
And Trobelt?
McCONNELL
—Showed up about a week after that. It was a rainy night, otherwise I might have heard him sooner. And he must've had orders to kill me, too, because he came after me before he lit the place up. I dunno, maybe I was supposed to be the fall guy, an angry tenant or a jealous boyfriend.
(sighs—he's had almost thirty years to think about that night)
I went down to the basement, just making my rounds. I got blindsided, but he didn't slug me hard enough, I woke up too soon—
(he reaches up, unconsciously fingering the left side of his face)
Paint thinner, it burns like hell. He soaked rags in it, like they'd been left there by workers, and then he planted some whiskey bottles and cigarette butts. Everything the investigators found later, except me.
(beat)
And sometimes I wish I hadn't come to.
HARPER
But you did, and he was still there?
McCONNELL
I heard a scream—I was screaming, but there was something else.
(beat)
The whole place was on fire, and I went stumbling out of it. I had to stay low because the smoke was so thick. I knew about the coal room. Rebecca had changed the building over to oil and the workmen were converting it to storage. The old door was off, and they had this iron plate for a temporary cover. They must've not have put it in place. It was heavy.
(beat—not very much regret)
He'd fallen in.
HARDCASTLE
Dead?
McCONNELL
By the time I got there, yeah—skewered himself on something.
(beat)
I dunno. I remember I was thinking real fast. Pierce would try to blame the fire on me, maybe the guy's death, too, and even if that didn't stick, he'd never stop until I was dead.
HARDCASTLE
So you hid the body.
McConnell nods
HARDCASTLE
(doubtful)
You moved that iron plate by yourself?
McConnell nods again.
McCORMICK
(half to himself)
One of those feats of strength. He was scared.
HARDCASTLE
(to Harmstead Pierce)
And then you started blackmailing ol' Larry?
McCONNELL
It wasn't like that.
She reaches over and covers his hand, squeezing it.
HARMSTEAD PIERCE
(to McConnell)
I'll explain. This part was my fault.
(to the others)
When Trobelt didn't show up to finish getting paid, Larry was convinced that I'd suborned him. I convinced him. He believed me, after all, the arson job had been a failure. My building was still standing.
HARDCASTLE
And the rest of this folderol?
HARMSTEAD PIERCE
I told Larry that Trobelt had given me evidence about the rest of the arsons. I had that, as well as proof that he'd had Bill murdered. And I'd sent Trobelt away, somewhere he'd be safe from Larry and the authorities.
HARPER
And Bill's body?
HARMSTEAD PIERCE
(a grim smile)
Just enough left to prove there'd been a murder.
(beat)
I had to charge Larry "rent". He wouldn't have believed me if I hadn't tried to profit from my information, but all I really wanted was to keep him at bay and make him believe Bill was gone. Larry knew the rules. He couldn't come near this place. And if he harmed me, I told him the information would be automatically made public.
(beat)
He couldn't bribe everyone.
McCORMICK
You'd installed a dead man switch, just in case.
HARMSTEAD PIERCE
(smiles sadly)
Well, at least he thought I had one. There really wasn't any information, and even if there had been, the statute of limitations was up on those crimes years ago—all except for Bill's murder.
HARDCASTLE
And Bill wasn't dead.
(he gives the whole scheme a low whistle)
HARPER
(to McConnell again)
What about Harry Schaum?
Pete Schaum rouses himself, suddenly frowning. There's a real possibility that he hadn't been following along very well up till now, and hadn't assembled the connections between McConnell and his brother.
McCONNELL
I thought Pierce had sent someone. That's why we kept the phone line connected in this office, Milt, so I could let Rebecca know if anyone was breaking in. Mostly it was just neighborhood kids, though. I'd go down there, bang on a pipe, and they'd skedaddle.
(beat)
I didn't realize until it was too late that he was going straight for the hole. I panicked. I tried to stop him—I don't know what I was gonna do—I—
(he hangs his head, rocking slightly)
Harmstead Pierce puts her arm around him, protectively. She looks at Pete Schaum.
HARMSTEAD PIERCE
We don't know what happened. Bill touched him on the shoulder. He turned around, screamed, and collapsed. He was gone, like that.
Pete looks confused. Hardcastle looks doubtful.
HARDCASTLE
And the four-story fall?
McCONNELL
(slowly)
I didn't know what to do. There had to be an obvious reason why he died, and it had to be as far away from the hole as I could make it.
(beat)
And I thought Pierce had sent him. I wanted to send him a message back.
Hardcastle still looks doubtful.
HARPER
Well, if it makes anybody feel any better, the M.E.s preliminary report is that he was dead before he went over the banister. A heart attack—complete blockage of the main coronary. All the damage from the fall was post-mortem.
Pete doesn't look any less confused, but McConnell lifts his head and looks at Harper steadily. He looks afraid to ask the obvious question.
HARPER
I don't think anybody's going to charge you with scaring him to death.
McConnell doesn't look all that relieved.
HARMSTEAD PIERCE
And the rest?
HARPER
I dunno. Obstruction of justice? Failure to report a death? I'll have to run it by the D.A.
(he's on his feet, obviously there's evidence collection to ride herd on—to McCormick:)
I'll need a statement from you about what you saw.
McCORMICK
Pierce fell. Write it down and I'll sign it.
FADE TO BLACK