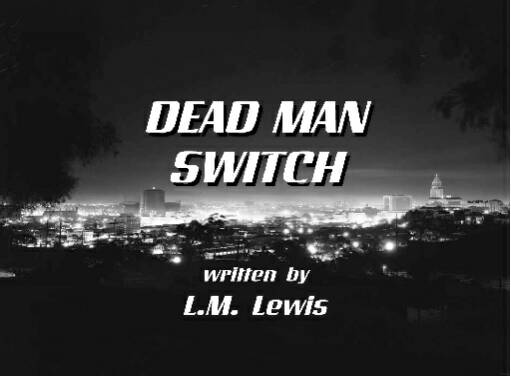 ACT II
September 2, 1986
Rev. September 20, 1986
Author's Note: This is a standard-length script for a one-hour episode of Hardcastle and McCormick, following the format of the original 1983-1986 versions. Because it is intended for readers, rather than a director and actors, some conventions were dispensed with, including the cast and set lists. I've also injected more than the usual number of parenthetical directions—surely the bane of skilled actors everywhere (because there are no actors to annoy here), and I used a minimum of camera angles.
FADE IN:
EXT. THE COUNTY RECORDS BUILDING—DAY
INT. A VAST FILING ROOM OF THE HALL OF RECORDS—FLUORESCENT
It's the lair of ROSE CARLUCCI, Hardcastle's go-to mistress-of-the-files and retriever of lost information. She emerges from between rows of shelves that are burdened with over-stuffed file boxes. Hardcastle and McCormick wait by her cluttered desk.
HARDCASTLE
(practically rubbing his hands)
I knew you'd come through for us, Rosie. Whatcha got?
Carlucci sweeps aside whatever was stacked on her desk already and drops a pile of file folders in that space with a satisfy thud. She pulls out several pieces of paper and spreads them on the remaining unoccupied space.
CARLUCCI
What I've got is a hernia, Milt. I think they ought to pay me by the pound.
HARDCASTLE
I'll get you an ice bag and some aspirin, kiddo. Now what about the Harmstead Building?
Carlucci opens another file and turns it toward Hardcastle and McCormick, who lean in to read what she's pointing out.
CARLUCCI
The taxes are paid up. The name on the deed is Rebecca Harmstead. See? Looks like it's stayed in the family since it was built. The previous owner was the original one, James Harmstead, and the current deed is dated June 13, 1951.
HARDCASTLE
(looking down at one of the other pieces of paper)
Just one day before the Harmstead-Pierce nuptials. Looks like daddy didn't want it to become community property.
McCORMICK
Not that it matters; they're still happily married.
HARDCASTLE
Married, yes. Happily isn't something we're going to find in one of these files.
CARLUCCI
Don't be so sure of that, Milt. Their '85 state income taxes weren't filed jointly and their mailing addresses are different.
(beat)
At least they're still in business together. The only leaseholder for the building you're interested in is listed as "Pierce Properties, Inc." and the director of record for that entity is Lawrence Pierce.
McCORMICK
She charges her husband rent?
HARDCASTLE
(doubtfully)
Might be some kinda tax dodge.
Mark still looks slightly aghast.
HARDCASTLE
But we've still got a lot of pieces left over that don't fit. Why isn't Larry Pierce using the damn place? I mean, even in that neighborhood you'd think he'd fix it up a little and sublease it. Might help offset the property taxes.
McCORMICK
Something's wrong with it, maybe? I mean, besides the obvious—that it's a dump. I mean really wrong with it, like Love Canal. Some kind of industrial contamination? Something that would make even tearing it down too expensive.
CARLUCCI
There's no record of it ever being zoned for anything except office space. There've been a couple of attempts by community organizations in the past few years to bring the owner to court, but nothing that's gone anywhere.
HARDCASTLE
No standing to file suit. It's not a public nuisance as long as it just sits there quietly, all boarded up.
McCORMICK
Until people start breaking in and find out the railings aren't solid. Maybe that's why your old landlady got panicky.
HARDCASTLE
Maybe.
(to Carlucci)
What about the fire back in '58?
CARLUCCI
There's a report, but it looks pretty bare bones. It says most of the damage was limited to the basement and the cause was "improperly stored painting supplies". There was a fine, and that was that.
McCORMICK
Insurance claims?
CARLUCCI
None filed.
McCORMICK
Okay, now it's officially weird.
(beat) What about that other thing?
(he glances aside at Hardcastle)
CARLUCCI
William McConnell? You two never come up with the easy ones.
(to Hardcastle)
This guy reminds me of your friend, Goodburn.
HARDCASTLE
(indignantly)
I wasn't friends with Eric Goodburn; I sent him to prison.
McCORMICK
(to Carlucci)
Except it didn't take. But don't tell us Bill McConnell got a new identity from the FBI—
CARLUCCI
If he had, do you think it would be in the records?
(sighs)
I don't suppose you have a recent address or social-security number?
HARDCASTLE
It's been almost thirty years.
CARLUCCI
Then it shouldn't matter if I need a couple of days, right?
HARDCASTLE
(grumbling)
I s'pose not. But call me right away if you come up with anything.
CUT TO:
EXT. THE GATE OF A DISTINGUISHED-LOOKING MANSION—DAY
On a brick pillar that supports the right side of the gate, a bronze plaque, dark with age, reads "Harmstead House". The place has the look of wealth, but the landscaping beyond the fence is a tad out of control.
INT. AN UPSTAIRS BEDROOM—DAY
Lots of dark wood and a massive four-poster bed that may well have once belonged to James Harmstead himself. The current owner is sitting on the edge of it, clutching a telephone receiver to her ear. REBECCA HARMSTEAD-PIERCE is lucky that padded shoulders are fashionable again, because she never gave them up. She's a handsome woman—in her 60s but holding her own against the ravages of time. Right now she's frowning.
HARMSTEAD-PIERCE
I told you the last time if you tried something like that again I'd take steps.
Silence as she listens to someone on the other end speak. She looks worried but not panicked.
HARMSTEAD-PIERCE
Lying is always what you've done best. I'd be a fool to believe anything you say—
(beat—she's screwed herself to the sticking point now)
—and my daddy didn't raise any fools.
She puts the receiver down decisively but the look of concern is now back, full force.
INT. HARMSTEAD HOUSE PARLOR—DAY
This room is done in a heavy fin de siecle style, too, and looks as if it hasn't been updated since then. Miss Havisham would be right at home here. McCormick is obviously not as he and Hardcastle perch awkwardly on the horsehair settee.
McCORMICK
(leaning in to whisper to Hardcastle)
This makes your old office building look pretty cutting-edge.
HARDCASTLE
(also sotto voce, and from the corner of his mouth)
People don't have to stay in style when they've got old money.
McCORMICK
(mostly to himself)
Oughta sell some of this stuff, get some new money and—
His comment is cut off as REBECCA HARMSTEAD-PIERCE sweeps into the room and both men rise, reflexively.
HARMSTEAD-PIERCE
I didn't mean to keep you waiting.
(looking intently at Hardcastle as she offers her hand)
Milt, I would have recognized you anywhere.
She looks aside at Mark, quizzically.
HARDCASTLE
Mark McCormick, my associate.
HARMSTEAD-PIERCE
You have a practice, then. I wasn't sure if you were retired.
McCORMICK
(grins)
He wasn't sure, either.
Hardcastle scowls at him. But Rebecca only smiles slightly. She seems a bit taken with McCormick, but redirects herself to the judge.
HARMSTEAD-PIERCE
I'm grateful, you know, for your assistance this morning, though I never intended for you to make a trip down there to that old place. I just wanted to know what the police had found.
HARDCASTLE
But you didn't want to just ask them?
HARMSTEAD-PIERCE
Oh, you know how it is. Not like the old days, certainly. My father's name meant something in this town, once. Nowdays…
(slightly flustered)
I have reason to believe that there are people who'd like to see that building torn down.
McCORMICK
Or fixed up, maybe.
Hardcastle shoots him a sharp glance.
HARMSTEAD-PIERCE
(sighes)
I know it's not in the condition it once was.
(to Hardcastle)
You remember how it was, don't you? My father designed it himself. It was his first.
She's not getting a very favorable reception for this.
HARMSTEAD-PIERCE
There've been matters beyond my control. But I don't want it torn down.
(beat)
I pay my taxes.
HARDCASTLE
I'm sure you do.
HARMSTEAD-PIERCE
I just want someone to keep an eye on the situation, to make sure I know if anyone tries anything. That's reasonable, isn't it?
HARDCASTLE
Sure. Very reasonable.
HARMSTEAD-PIERCE
Then you'll do it? We can discuss a retainer.
Hardcastle smiling understandingly as we—
CUT TO:
EXT. GMC TRUCK—DRIVE-BY—DAY
INT. GMC TRUCK—MOVING—DAY
Hardcastle's at the wheel. McCormick is leaning back, arm up on the back of the seat.
McCORMICK
Lemme get this straight. You're fronting for the absentee landlady of a neighborhood eyesore?
HARDCASTLE
Hey, that's my old office you're insulting.
(beat)
Besides, I'm not "fronting" for anybody.
McCORMICK
Okay, so what do you call it?
HARDCASTLE
I call it being attorney-in-fact, at least with regards to that building. I would've liked to have gotten her signature on something—
McCORMICK
I thought you didn't get along with her.
HARDCASTLE
I didn't say that.
(beat)
Anyway, that's not the same lady who gave me the hard time thirty years ago. If I didn't know better, I'd say she's scared.
McCORMICK
Harmsteads don't scare, huh?
HARDCASTLE
(shoots him a glance)
Not easy.
CUT TO:
EXT. GULL'S WAY—ESTABLISHING—DAY
INT. THE DEN—DAY
Hardcastle's on the phone, scribbling something on a pad of paper; McCormick is draped in a chair, fiddling with a knick-knack from the desk.
HARDCASTLE
(to phone)
So, besides the name, what do we know about this guy?
INT. FRANK HARPER'S OFFICE
Harper has the phone tucked between his ear and shoulder as he sorts through the relevant papers on his desk.
HARPER
Well, prior to him landing on the lobby floor of the Harmstead building, it looks like Harry Schaum was an honest citizen—
INTERCUT:
HARDCASTLE
Hmmph. Never got caught is more like it.
HARPER
—and he was a CPA in good standing with the state licensing board. We talked to his next-of-kin, a brother named Peter. He lives here in L.A. and says he saw Harry pretty regularly.
HARDCASTLE
Last night, maybe?
HARPER
He's denying it. He also says he has no idea why his brother would have been wandering around a deserted building in the dead of night. Everything seemed okay with him lately, as far as Pete's willing to admit.
HARDCASTLE
Sure, he stopped off there to see if anybody needed their taxes done.
(beat)
Thanks, Frank.
He cradles the phone. McCormick perks up a bit.
McCORMICK
So?
Hardcastle is dialing again. He hits the seventh number and then holds up his finger to block any further questions for a moment. Obviously he is waiting for someone to pick up on the other end. A beat, and then he smiles.
HARDCASTLE
Rosie? It's Milt again.
(beat)
No, I wasn't figuring you'd throw everything else overboard to work on this McConnell thing. In fact, maybe you could put that down for a sec and look something else up for me.
(another beat—followed by a broader smile)
I owe ya one, Rosie.
(looks at the pad he was writing on earlier)
The guy's name is Harry Schaum and he was a CPA.
(beat)
Yeah—"was"—died early this morning and the M.E. hasn't decided yet if he had help or not. Got anything in your computer on him?
(a longer beat—and then a startled look on Hardcastle's face as he digests what he's hearing)
You're kidding.
(beat, and then in an apologetic tone:)
No, Rosie, I know you're not kidding. I was just surprised, that's all. You've been a big help. Thanks.
(he hangs up again, looking thoughtful.)
ANGLE—McCORMICK—LOOKING IMPATIENT
ANGLE—HARDCASTLE
HARDCASTLE
(shaking loose from his reverie)
You heard the part about this guy being an accountant.
McCORMICK
Yeah, must say something about the price of used copper wire these days.
HARDCASTLE
Maybe—Rosie says he's been collecting unemployment benefits for a couple weeks now.
(glances down at the paper and then up with a shark-like smile.)
You're never gonna believe who fired him last month.
McCORMICK
Try me.
HARDCASTLE
Harry was on the payroll of Pierce Properties, Inc. His boss was Larry Pierce.
McCORMICK
(thinks about this for a moment and then:)
How do we know that isn't proof for the suicide scenario? A guy loses his job and sends a message to his ex-boss by messing up his lobby.
HARDCASTLE
In an empty building? That's pretty considerate of him, don'tcha think?
(beat)
But it sure as hell wasn't a coincidence, him winding up there. Ol' Harry was in that building for a reason, and I don't think it was to mess up the floor.
McCORMICK
You think his ex-boss knows something about it?
HARDCASTLE
I dunno—
(beat)
But I sure intend to ask.
HOLD, THEN:
CUT TO:
EXT: A MULTISTORY OFFICE BUILDING IN CENTURY CITY—DAY
This is one of those steel monsters.
INT: PIERCE PROPERTIES, INC.—THE RECEPTIONIST'S OFFICE
We know where we are because there's a big, flashy logo on the wall. It's a modern enterprise with minimalist furniture: chrome, leather, glass. The young lady at the receptionist's desk is minimalist, too—cool, blond, she's wearing the kind of sheath dress that only looks good on models, and it looks fine on her. Hardcastle is leaning with both hands firmly on the front edge of her desk. McCormick is a little off to the side, taking in the view.
RECEPTIONIST
I don't see your name on Mr. Pierce's appointment calendar, Mr. Hardcastle.
HARDCASTLE
That's because I didn't make an appointment. It's regarding something that came up just today.
RECEPTIONIST
(she's heard it all before)
Mr. Pierce doesn't see anyone without an appointment. I can make you one for, say,
(glances down at a leather-bound book)
Tuesday, next.
HARDCASTLE
(smiling, but not giving an inch)
I think you're gonna want to check with your boss about that. Next Tuesday is gonna be way too late.
(beat)
You heard about the unfortunate incident at the Harmstead building?
The receptionist looks suddenly more concerned—she's heard and it hasn't been good.
HARDCASTLE
We're the ones Mrs. Pierce has following up on that.
There's just a beat before she's up on her feet, not trusting this one to the office intercom.
RECEPTIONIST
If you'll wait right here, I'll see if he's available.
She knocks once and goes in. Hardcastle exchanges a tight smile with McCormick. There's only time for that before the woman is out again.
RECEPTIONIST
Mr. Pierce will see you now.
She holds the door for them as they enter.
INT. PIERCE'S OFFICE—DAY
More of the same, décor-wise. His desk is a vast, uncluttered plane of glass and chrome that must drive the janitors crazy. There's a view through the window behind him of the L.A. skyline, at once a symbol of his domain, and a way to keep the light in his opponents' eyes. PIERCE is about Hardcastle's age, tall, muscled, with just enough salt in the pepper to qualify him as "distinguished." His expression is unreadable, well-schooled by forty years of business negotiations.
PIERCE
(wary, but rising to meet his visitors and gesturing toward two chairs)
Gentlemen, I don't believe we've met.
HARDCASTLE
(extends a hand, forces a shake and prolongs it, just slightly, as though to send a message)
Milt Hardcastle. This is my associate, Mark McCormick.
PIERCE
And you are—?
HARDCASTLE
(exuding an aura of confidence)
Assisting your wife with the break-in last night at her property. You've talked to her about it?
PIERCE
Yes, of course. She didn't mention any private investigators.
HARDCASTLE
Oh, we're a bit more than that.
His tight smile is open to interpretation. McCormick, sitting to his left, has assumed the quiet, grim look of a man who does the dirty work.
HARDCASTLE
The man who died, he was a former employee of yours.
(beat—waiting for a reaction from Pierce; there is none)
His name was Harry Schaum, an accountant.
PIERCE
(recognition, followed by what looks like genuine surprise)
Schaum? What the hell was he doing over there?
HARDCASTLE
We thought you'd be able to tell us.
PIERCE
Of course not. He was fired. That was, what, maybe a month ago.
HARDCASTLE
And the grounds for dismissal—?
PIERCE
Are none of your business.
(he's hot now, but recollects himself after a moment)
Let's call it "irregular accounting practices' and leave it at that. We had grounds.
HARDCASTLE
(smoothly)
I'm sure you did.
(beat)
And you have no idea why he might have been wandering around the Harmstead Building after hours?
PIERCE
None whatsoever.
HARDCASTLE
(musing)
Doesn't make much sense—the place is empty, nothing going on there.
PIERCE
(looks puzzled by the turn in the conversation)
It's in transition.
HARDCASTLE
Kind've a long "transition" I'd say. What's it been now, almost thirty years? I'm not a real estate guy, but that sounds kinda like an irregular business practice to me.
PIERCE
Rebecca sent you?
(more than puzzled—he's doubting all his earlier assumptions)
You can tell her what I told you: Harry Schaum was no longer in my employ and I had no idea what he was up to.
(beat)
And I think that's all I have to say to either you or her right now.
(gives a button on the intercom a sharp poke and speaks toward it)
Mr. Hardcastle and his associate will be leaving now.
Hardcastle rises without protest, his smile is satisfied and slightly knowing. He turns to leave, with Mark a step behind him.
ANGLE—PIERCE BEHIND HIS DESK
He glares after the departure of his guests.
CUT TO:
EXT. THE GMC—DRIVING BY—DAY
INT. THE GMC—MOVING—DAY
McCormick is behind the wheel this time. Hardcastle is in the passenger seat, cogitating; the knowing smile is gone, replaced by a look of perplexity.
HARDCASTLE
(just above a mutter)
What the hell is he hiding?
McCORMICK
Maybe you got it in one: a tax dodge, and Schaum was onto it.
HARDCASTLE
Nah. Still too many pieces left over. What made the guy break into that building?
McCORMICK
That's obvious.
Off Hardcastle's look of surprise:
McCORMICK
He was looking for something.
HARDCASTLE
(surprise sublimates into frustration)
Well of course he was looking for something. I want to know what.
McCORMICK
Only one way to figure that out, Kemosabe.
Hardcastle shoots him a glance that says he knows what McCormick is going to say next—but that doesn't stop him.
McCORMICK
We gotta go find it ourselves.
HARDCASTLE
We could tell Frank what's going on—make it official.
McCORMICK
And assuming he even thinks there's probable cause, which is doubtful—I mean, how can we come up with a nexus definition when we don't even know what crime is being covered up?
HARDCASTLE
Assuming there is a crime.
(beat—then resignedly)
You know this law school thing is supposed to make you more on the up-and-up, not better at justifying your B&Es.
McCORMICK
(undistracted and undeterred)
And even if Frank does go through all the official steps, when the interested parties all get wind that a search warrant is being served, it'll give whoever's guilty of whatever they're guilty of plenty of time to get in there ahead of us to ditch it.
(pauses—looks puzzled and then continues)
—which makes me wonder why they haven't done that already.
HARDCASTLE
(speculatively)
They can't,
(beat)
but darned if I know why. Too big, too heavy, I dunno.
McCORMICK
Anyway,
(ignoring the side issue and
pressing his argument home) you've got that attorney-at-fact thing still going, haven't you? And all of this pertains to why Harry did a four-story swan dive—so, it's not exactly a B&E.
HARDCASTLE
(stubbornly)
We don't have the key.
McCORMICK
(smiles serenely)
Neither did Harry.
CUT TO:
EXT. THE HARMSTEAD BUILDING—DAY
The GMC cruises by slowly.
ANGLE—THE GMC TURNING INTO THE ALLEY ALONGSIDE THE BUILDING.
EXT. THE ALLEY—DAY
McCORMICK climbs out of the truck, meeting a less-willing HARDCASTLE on the passenger's side, which is closest to the wall of the Harmstead Building. The Schaum brother's handiwork from the night before has been boarded up again, but the yellow police tape across the window makes it easy to see which one they used and the repairs were hasty. McCormick yanks the tape loose and hands it to Hardcastle, who looks down at it for a moment, then deposits it in the garbage can to his right. Breaking and entering: yes, littering: no. McCormick already has a crowbar in hand and the boards come off with minimal effort. He sets them aside and we see the bent bars across the open half-window. The span between them at the widest point is perhaps fourteen inches.
HARDCASTLE
I'll never fit through there.
McCORMICK
That's why you keep the faithful Indian scout around, Kemosabe.
(already checking his flashlight and then getting into position, feet first)
You go "round front and I"ll let you in.
(he shimmies through and drops in, face now level with the window)
See? Easy.
ANGLE—HARDCASTLE
He's scowling at McCormick's eagerness and levity.
McCORMICK
I promise, I'll go straight to the door. No looking for the skeletons in the Harmstead closet until you're inside.
HARDCASTLE
(grumpy)
Watch your step. There's probably a lot of junk down there—
(beat)
and rats.
McCORMICK
Rats?
(glances over his shoulder into the gloom)
HARDCASTLE
Yeah, black ones. Ya know—
(makes claw hands at shoulder level and a quick series of gnawing sounds)
rats.
McCORMICK
(worriedly)
Rats.
(then with renewed determination he flicks his flashlight on again.)
Gimme five—ten at the most; I'll meet you at the door.
(pushes off from the window and out of view)
Hardcastle leans down for a moment, looking in, then, having lost sight as well:
HARDCASTLE
(not quite a holler, into the window)
Just be careful, will ya?
He sighs and straightens up, hands in pockets—and saunters toward the front end of the alley.
INT: THE HARMSTEAD BUILDING BASEMENT—DAY
Though night and day are pretty much the same down here. We see some of the same surroundings as in the first scene, and there is the same claustrophobic feeling. McCormick picks his way between piles of debris. This time it's apparent that there was a fire some time back. He half-stumbles, breaks his fall with a hand on a pipe, then shines the flashlight onto his palm—it's black with soot. He grimaces and wipes it casually on his pants. At one point his footsteps go hollow. McCormick plays the flashlight down over the slightly out-of-kilter iron slab. Just then there's a faint sound—a creak of footsteps overhead, or just a squeak of a disturbed rodent. McCormick freezes, listening hard. The noise, whatever it was, has stopped. He lets out a slow breath and edges back the way he came, casting his light down every potential side passage, until he finally catches a flash off something angled up and shiny—A BANISTER. It's strictly basement-style utilitarian with a metal handrail. Like everything else, the vertical metal spindles are discolored by flame and soot, but the railing itself catches the light—it's clean. McCormick approaches cautiously.
ANGLE—McCORMICK'S POV LOOKING UP FROM THE BASE OF THE STAIRS
There's a doorway immediately at the top. The door is closed. Barely visible through the grime are the stenciled letters: GRND FLR.
ANGLE—CAMERA PULLS BACK TO REVEAL McCORMICK
He sensibly avoids the railing, but takes the stairs at a good clip, eyes and flashlight focused down, to make sure the steps are really all there. He's oblivious to the slight opening of the door above, the fingers of one hand curled around the edge of the door are barely visible in the shadows above. McCormick's just arrived at the top step when the door swings open suddenly, knocking the flashlight from his hand and throwing him, in near-darkness, over the railing and down.
ANGLE—FROM A POINT NEAR THE LEVEL OF THE BASEMENT FLOOR
The only light is from the flashlight, lying where it fell, amazingly still working. Its narrow beam illuminates McCormick, sprawled on his back with his eyes closed, unmoving, and someone standing beside him. We only see the legs of this man from the knees down, and then a hand moves into the field of view, reaching down slowly. McCormick moves slightly and groans. The hand jerks back. The figure scuttles into the shadows and is gone.
HOLD AND:
FADE OUT.
Tonight's episode of Hardcastle and McCormick
will return after this commercial break…