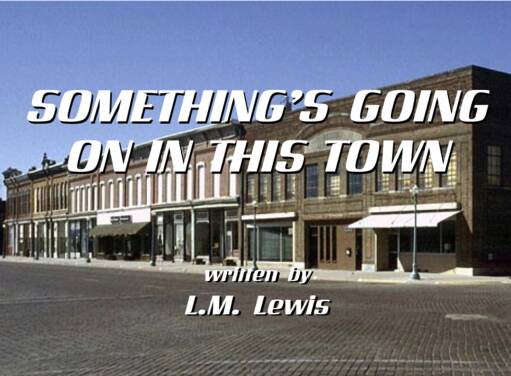 ACT I
October 15, 1986 F.R.
Author's Note: This is a standard-length script for a one-hour episode of Hardcastle and McCormick, following the format of the original 1983-1986 versions. Because it is intended for readers, rather than a director and actors, some conventions were dispensed with, including the cast and set lists. I've also injected more than the usual number of parenthetical directions—surely the bane of skilled actors everywhere (because there are no actors to annoy here), and I used a minimum of camera angles.
FADE IN:
EXT. RURAL ROAD—DAY
An aerial shot of the GMC truck driving along a scenic two-lane highway.
INT. THE TRUCK—MOVING-DAY
Hardcastle is driving along by himself, listening to the farm report, enjoying the scenery. Just as the station signals its call letters (KVIL and the town of Koganville) we hear one of those not very good sounds coming from under the hood. Hardcastle's heard it, too—and:
INSET: the temperature gauge on the dashboard is redlining
HARDCASTLE'S POV
He has a drive-by view of a sign that reads "Welcome to Koganville, pop. 1,257. Home of the Koganville High Kougars—1971 Division IV Regional Champs - Football". To balance that is the township cemetery on the other side of the road. It looks neglected. What flowers we see among the grave markers are of the artificial variety, dusty and weather-beaten.
EXT. THE TRUCK - DAY
It's limping into a gas station ("Hank's Gas and Service—We Care for Cars") with steam coming out from under the hood. It lurches to a halt. Hardcastle climbs out, hastens to the front, unlatches the hood and opens it. He's greeted with a billow of fresh steam and leans back, coughing. The station owner, HANK, emerges from the service bay, wiping his hands on a rag and chewing on a toothpick. He stows the toothpick in the corner of his mouth and inspects the damage while Hardcastle tries to fan away the steam.
HANK
(to Hardcastle)
You check your coolant before you started out?
HARDCASTLE
(irritated)
I got somebody who likes checking coolant. It's a hobby for him.
HANK
(nods, he gets that, then leans in, taking a professional interest)
Could be a leak in the radiator, or some kinda blockage, or maybe the water pump.
HARDCASTLE
How long will it take to fix? I was on my way to a convention up in Sacramento.
HANK
(scratching head) You're kind off the beaten path for that town,
huh?
HARDCASTLE
I like taking the scenic route. How long you figuring?
HANK
(not making any promises)
Oh, depends on what the problem is, and if I need parts, and how fast they can deliver 'em.
(beat)
We get most of our stuff sent from Fresno. If you give me an hour, I'll check 'er out. Might just need a good flushing.
HARDCASTLE
(sighs, shoulders drop)
An hour, huh? Don't suppose there's anywhere around here where a guy can get a sandwich and a cup of coffee?
HANK
Sure.
(pulls out toothpick and points with it, down the road into town)
Place called the Do Drop Inn, right up the road here not even a quarter mile.
Hardcastle smiles and nods, hands over the key and heads in that direction.
EXT. SMALL TOWN MAIN STREET—DAY
We see the front of the Do Drop Inn, Maggie Purls, Proprietor. "Just Like Home Only You Don't Have to Do the Dishes." There are checked curtains in the windows and an "Open" sign hanging inside the door.
INT. THE DO DROP INN—DAY
The place is hopping. MAGGIE is handling the register, a middle-aged WAITRESS is hustling food out to the tables, many of which are occupied; mostly it's guys in work clothes. There's a third employee behind the counter, scraping plates and carrying things into the back for washing. She's KITTY McCRAY, pale, thin, and half-way between girl and woman—maybe 18, maybe not. Her hair is dishwater blond and tied back untidily. HARDCASTLE is already seated in a booth, looking at a menu. The waitress approaches.
WAITRESS
(friendly)
What'll it be?
HARDCASTLE
(glances up, tries not to look cranky)
That meatloaf special.
WAITRESS
(nods and jots)
You'll like that.
HARDCASTLE
And coffee, black.
(beat)
You got a phone?
The waitress points to one near the back, regrettably close to a jukebox that's winding down the last chorus of the Randy Travis Song, "Diggin' Up Bones". He thanks her and takes advantage of the lull in the background music to slip away to the phone. He pulls out a handful of change, puts it on the ledge below the phone, lifts the receiver, and drops in a quarter, with the receiver wedged between his shoulder and his ear. He dials a long-distance number, waits for the operator to announce the charges, and feeds in more quarters. We hear the ringing tone and then:
INT. THE GATEHOUSE AT GULL'S WAY - DAY
McCORMICK has umpteen books open on the coffee table, with a few more in piles on the floor around him. He's sitting on the sofa, pen and notepaper to hand, at least going through the motions of studying, but he lunges for the PHONE on the first ring.
McCORMICK
The Gull's Way Institute for Advanced Boredom, McCormick here.
INTERCUT:
HARDCASTLE
(loud phone-speak in a crowded and noisy room)
Hey, it's me.
McCORMICK
Hey, how's the water balloon fight going? You got Arnie Sandoval on your team this year?
HARDCASTLE
No water balloons, and it don't look like there's gonna be any judges' convention until I get my radiator flushed or patched or whatever it needs. I'm in a little place called Koganville.
McCORMICK
Koganville? Never heard of it. What the hell are you doing off the interstate?
HARDCASTLE
(sighs)
I was taking the scenic route.
McCORMICK
Okay, well, never mind, I'll find it on the map.
(leans over, still holding the receiver, feels around under the coffee table for his shoes)
You left at seven—
(sits up, shoes still unlocated, checks watch) I can be there by five. We'll get back on 99 and shoot north—I'll have you at the convention in time to put some Saran Wrap under the toilet seat and shoot a spitball at the maitre d'.
HARDCASTLE
Nah. This was the weekend you were gonna get caught up on everything. I don't mind missing the spit balls. Anyway, all the important stuff is tomorrow afternoon. Got a couple of good seminars on family law, and one on that DNA thing they're gonna start using.
(beat, then does his best to sound hopeful)
For all I know, this Hank guy'll have the truck back on her pins in a couple hours. No point in you driving all the way up here.
McCORMICK
You sure?
HARDCASTLE
Sure, I'm sure. I just wanted to let you know where I was and not to worry.
McCORMICK
I wouldn't've worried. I wouldn't've even known I was supposed to worry.
HARDCASTLE
Okay, well, good. Go back to your studying.
McCORMICK
(a little disappointed, he's finally located one loafer, looks at it, and tosses it over his shoulder)
Okay. Call me if you change your mind.
HARDCASTLE
I would, but I'm not gonna change it. Bye.
McCORMICK
Bye.
He hangs up, looks at the books open in front of him, sighs deeply, and returns to his work.
RESUME SCENE AT CAFÉ
Hardcastle hangs up the receiver and wends his way back to his booth. Off to his left, and a little behind him, KITTY McCRAY watches closely from behind the counter. The food and his cup of coffee are already at his place. Hardcastle sits and takes a bite, then starts to chow down with greater enthusiasm. MAGGIE notices McCray staring fixedly. She steps over and gives the girl a tap on the shoulder. McCray startles and then focuses on her.
MAGGIE
(firm but not unkind)
No daydreaming. We've got customers.
McCray nods and ducks away to the back with her stack of dirty dishes. There's one quick, wistful glance over her shoulder as she departs. Maggie follows the direction and her own gaze lands on Hardcastle. She frowns for a moment—puzzlement, not anger.
CUT TO:
EXT. THE STREET OUTSIDE THE DO DROP INN—DAY
A burly young man, LESTER KOOMS, strolls up. He's by one edge of the window. He shades his eyes and looks in.
KOOMS' POV
He takes in the lunch crowd but focuses on Kitty, now going about her business. Inside the café it's all a silent pantomime. Hardcastle rises from his place, picks up the bill and glances at it, digs out his wallet and leaves cash. As he moves toward the front door he passes in front of McCray who follows him with her eyes, then abruptly puts down her latest stack of dishes. She wipes her hands on her apron and pulls it off, abandoning it behind the counter. We see Hardcastle say something undoubtedly complimentary to Maggie, then head out the door. Maggie is looking at him as McCray ducks through the doorway to the back.
RESUME EXT. OF THE DO DROP INN
HARDCASTLE is coming out the door. KOOMS drops back, standing casually with his hands in his pockets, looking in the window of the store next to the café. As Hardcastle starts walking up the street, in the direction of the service station, McCRAY emerges from the alleyway alongside the café. She spots Hardcastle, hesitates for a second, then hurries to catch up with him. Kooms, standing in the background, watches for a moment, then frowns and turns and walks away. Hardcastle, hearing footsteps coming up behind him, turns and spots McCray as she approaches.
HARDCASTLE
(puzzled)
Ah…?
McCRAY
(breathless as she comes to a halt near him)
Are you a judge or something?
HARDCASTLE
(now even more puzzled)
'Or something'—Yeah. Milt Hardcastle. Superior Court. Retired.
(he smiles)
McCRAY
Retired? So that means you're not a judge anymore?
Hardcastle protrudes his lower lip just slightly and shakes his head in a silent "no". McCray looks crestfallen.
HARDCASTLE
Is there something I can do for you, Miss, ah…?
McCRAY
Kitty…Kitty McCray.
(looks disappointed with her catch but not willing to throw him back yet)
You're still a lawyer though, right?
HARDCASTLE
(smiles—glances around)
If we're still in California I'm still a lawyer.
McCray seems momentarily confused.
HARDCASTLE
(clarifies hastily)
Certified by the State Bar of California. That's how it works, see?
McCray looks slightly less mystified. She nods.
HARDCASTLE
(in a helpful mood)
You have a legal problem?
McCray suddenly appears a little less forthcoming. She glances over her shoulder as if someone might have followed her. The street is empty. Hardcastle frowns, but waits patiently. It's too soon to go back to the service station anyhow. She finally turns back to him and leans in, looking very earnest.
McCRAY
My grandmother. She died a couple weeks ago.
HARDCASTLE
(the smile drops off his face)
Oh—sorry to hear that.
McCRAY
She was murdered.
There's a moment of awkward silence. Hardcastle really should've seen this one coming. He starts up again though with no further hesitance.
HARDCASTLE
You talked to the police?
McCRAY
'Police?' You mean Sheriff Larcom.
(there's a hint of disgust in her tone) He says she was old, and she died, and that's all there is to it.
Hardcastle nods sagely, though it's not clear whose side he's taking in that argument.
McCRAY
She was fine. She said she was doing okay. I talked to her on the phone.
HARDCASTLE
(neutrally)
You were away?
McCray nods. Sadness overtakes her anger.
HARDCASTLE
(understanding)
It's hard to not be there when somebody needs you.
McCRAY
(near tears)
I shouldn't've gone. I wanted to come back. They wouldn't let me come home until after she was dead and buried.
HARDCASTLE
(starting to see the outline a little clearer)
Ah, you were in the hospital?
McCray nods sadly.
HARDCASTLE
What for?
McCRAY
(makes a vague movement with her hand)
My nerves.
(she strings that last word out a little, with a note of sarcasm)
HARDCASTLE
(there a beat, he's searching for the right thing to say, and then, quietly:)
She probably didn't want to worry you, telling you she felt fine and all that.
McCray might've been drifting off a bit, into memory, but she gives him a sharp, penetrating look. She's heard all this before.
HARDCASTLE
(looking a little uncomfortable)
What about your folks—your mom and dad?
McCRAY
Mom?
(shakes her head)
Haven't seen her in a while. She comes and goes. Mostly goes. I've always lived with my grandma.
HARDCASTLE
How old are you?
McCRAY
(a hint of defiance)
Eighteeen, okay?
(beat)
Listen, I just want them to dig her up and… and figure out how they killed her. That's all.
(voice rising)
And Sheriff Larcom and all the rest of 'em tell me I've got no right and I should just let her rest in peace.
HARDCASTLE
(cocks his head)
He's right, you know. If a doctor signs a death certificate and somebody get buried, it takes some evidence to get an exhumation order. Do you have any of that?
McCRAY
(looks disappointed in him)
Nobody believes me.
HARDCASTLE
I didn't say I didn't believe you. It's just that you haven't given me anything to believe.
McCRAY
(withdrawing—talking more to herself now)
They killed her. She's dead and nobody will listen.
She turns away. Hardcastle watches her depart. His hands are in his pockets. He glances over his shoulder in the direction of the service station, then back at McCray, who's walking, head down.
HARDCASTLE
(raises his voice to call after her)
Listen, I can talk to this sheriff of yours, see what he says.
She lifts her head and looks back toward him.
HARDCASTLE
I can't promise you anything, but I find out what's what; is that okay?
Her expression is suddenly hopeful. She nods eagerly.
HARDCASTLE
(trying to rein her hopes a little)
That doesn't mean anything will change.
McCRAY
You're a judge; he'll listen to you.
HARDCASTLE
I'm an ex-judge. And I'll listen to him. See if anything sounds hinky.
McCRAY
You'll see. You will.
(suddenly seems to be aware of something)
Oh…Maggie's gonna be mad. I gotta get back to the place.
HARDCASTLE
(makes a shooing motion with his hand)
Go on, then.
She trots off. It's close to a skip and makes her look considerably younger than her stated age. He watches her go, then shakes his head and stuffs his hands back in his pockets. The wry smile on his face fades into something more like concern and that's punctuated by a sigh.
Hold on that and then,
CUT TO:
EXT. THE STREET IN FRONT OF THE DO DROP INN—DAY
KITTY McCRAY is still practically skipping as she heads up the alleyway next to the café. Obviously, happy or not, she's going to try and sneak in the back unnoticed.
ANGLE—PULL BACK
LESTER KOOMS is in the shadow of a doorway across the street. He doesn't look happy. He watches McCRAY's departure down the alley and then transfers his gaze up the street in the direction from which she came.
Hold on his scowl and then,
CUT TO:
EXT. HANK'S SERVICE STATION—DAY
Hardcastle ambles up to where the truck is parked, his hands still in pockets. He looks deep in thought but maybe not quite as impatient as before. HANK must have seen him coming; he steps out of the service bay, wiping his hands on a rag, looking a little nervous.
HARDCASTLE
(thumps the hood of the vehicle affectionately)
So what's the verdict?
HANK
Well, we got some good news and some bad news. The good news is I found the problem—your pump failed.
HARDCASTLE
That's good news, huh?
HANK
Sure, I can pop that baby out and have a new one in pretty quick,
(beat)
if that was all it was.
HARDCASTLE
But it's not, huh?
HANK
Uh-uh,
(shakes his head sympathetically)
Blew your gasket.
Hardcastle looks blank.
HANK
Cracked the cylinder head.
Hardcastle still looks blank. Hank's running out of alternative terminology.
HANK
Too much heat makes things warp and break. It'll take time for the new parts to get here and then more time for me to take it apart and fix it.
(glances down at his watch)
Figure it's about two, now. I might have you back on the road by noon tomorrow.
(beat)
Sorry, best I can do. And that's if they got what I need in Fresno.
HARDCASTLE
(not exactly pleased, but surprisingly complacent)
Noon, huh?
HANK
Noon, earliest.
HARDCASTLE
You got a motel or hotel around here?
HANK
(scratches head)
The Kogan Hotel closed up about ten years ago. We got a bed and breakfast—the lady who ran it up and died a while back.
(looks doubtful)
Don't know if her granddaughter's still taking in lodgers.
Hardcastle seems to be weighing the odds. This includes a brief glance over his shoulder, as if considering the smallness of the town. Play the beat and then, turning back to the mechanic,
HARDCASTLE
The lady's name wasn't McCray by any chance?
HANK
Oh, you met our Kitty, huh?
(knowing smile)
Yeah, her Grandma Erma ran the place. She was a real good cook, as good as Maggie, I'd say. Now Kitty,
(beat, he's searching for the right word)
she's—
HARDCASTLE
Different?
Hank gives him an odd look. It might be the word he would have used, but maybe he doesn't like hearing it voiced by an outsider.
HARDCASTLE
(sensing the coolness)
We met. She had a legal question.
HANK
You're a lawyer?
HARDCASTLE
Is it going to raise the estimate?
Hank grins and shrugs.
HARDCASTLE
Yeah, I'm a lawyer. I used to be a judge. I'm retired, though.
(sighs)
Well, lemme sign whatever you want me to sign so you can order those parts and get rolling on this.
Hank pulls out a trifolded paper and a pen from his hip pocket. Hardcastle gives it a cursory glance, ending with a dyspeptic grimace at the bottom line. He flattens the paper out on the hood of the truck and scrawls his name then hands it all back to Hank, then reaches into the cab of the truck and pulls out a small satchel.
HARDCASTLE
I guess you can leave a message for me at the Do Drop Inn, if there's anything else that comes up.
Hank nods as he folds the paper back up. Hardcastle starts to turn away and then pauses abruptly.
HARDCASTLE
Oh, one other thing—
(beat)
You know where I can find Sheriff Larcom?
Hank looks up at him, startled. Play that and then,
CUT TO:
EXT. A ONE-STORY SHERIFF'S HEADQUARTER'S—DAY
It shares a certain esprit d'architecture with the sheriff's office of "You Don't Hear the One That Gets You"—minus the ethnic slurs graffitied on the front door. All appears peaceful in the burg of Koganville.
INT. SHERIFF LARCOM'S OFFICE—DAY
LARCOM is behind his cluttered desk, looking like the kind of experienced professional lawman you'd want minding your small town. He's got salt-and-pepper hair, a weathered face, and a thoughtful expression. HARDCASTLE is occupying the visitor's chair facing the desk.
LARCOM
(patiently)
You have to understand, Mr. Hardcastle. Kitty McCray is a kinda special girl. High strung, if you know what I mean. Heck, her momma's the same way.
HARDCASTLE
And the part where she says her grandmother was murdered—that's just youthful high spirits then? A vivid imagination?
LARCOM
(frowning, then reluctantly confidential)
You know it's a little more than that, don't you? I mean, she talked to you.
HARDCASTLE
Then there was nothing suspicious about her grandmother's death, nothing that struck you odd?
LARCOM
(indignant)
Hell no. But you don't have to take my word for it. Ask Doc Springer. He looked after her when she got sick. My God, the woman was in her 80s. She went by ambulance to the county hospital. They did everything they could for her.
(he gathers himself a little)
Kitty—she was away then. She was sick herself.
(he stops, rather pointedly, as if he doesn't intend to go there—there's a beat and then:)
Just talk to Doc Springer.
(another beat)
And for God's sake, don't get Kitty all riled up on the subject. It's been three months; I thought she was settling down some.
HARDCASTLE
(surprised)
Three months?
LARCOM
Yeah, more or less. More, come to think of it, a week or two more.
(squints slightly)
Why, what'd she say?
HARDCASTLE
(puzzled)
I'da sworn she said it was a couple weeks ago.
LARCOM
(sharp and fast)
Damn.
HARDCASTLE
Mighta been my mistake—a misunderstanding.
LARCOM
(shaking his head)
Nah. No. I doubt it. That's Kitty when her screws get loose. Next thing you know she'll be saying we all took turns killing Erma and I'm covering the whole thing up.
HARDCASTLE
(matter-of-factly)
You're not, are you?
Larcom stares at him for a moment, then cracks a thin smile.
LARCOM
You've got an odd sense of humor, Mr. Hardcastle.
(then he stands slowly, the interview is obviously over)
Everybody in this town loved Erma. Kitty's one of ours, too.
(beat)
You talk to Doc Springer.
Hardcastle rises as well. Maintaining a calm and polite demeanor; he turns and heads for the door. Just as he reaches for the knob he half turns, casting a look back at the sheriff.
HARDCASTLE
"Screws loose"—I think that's what you said, wasn't it?
Larcom swallows once, looking a little guilty but finally giving that a single tight nod.
LARCOM
Might not've been the right—
Hardcastle cuts him off with a wave of his hand.
HARDCASTLE
I just want to know if you're saying she might be dangerous.
LARCOM
(indignant again)
'Course not. I didn't say anything like—
HARDCASTLE
(cutting him off again)
Good. Just thought I oughta ask. I'm stuck here overnight, looks like, and I figured since she's got rooms to spare, I'd ask if she's willing to take a boarder.
(he nods once, friendly-like, then turns back to the door and exits)
The camera following him through the main public room of the sheriff's headquarters where a DEPUTY glances up from a file drawer he's working on. Hardcastle spares a wave for him, too, and gets a puzzled look back.
ANGLE—BACK TOWARD LARCOM'S OFFICE
Larcom is standing in the doorway. His expression is very flat. There's just a hint of disapproval. Hold on that and,
CUT TO:
EXT. THE DO DROP INN—LATE AFTERNOON
HARDCASTLE is seen ambling down the sidewalk on that side of the street. He approaches the door.
INT. THE DO DROP INN—LATE AFTERNOON
The lunch rush is long over. There are just a couple of customers lingering over coffee. HARDCASTLE enters, looks around. MAGGIE is toting up receipts at the counter.
She looks up as he walks in.
MAGGIE
(smiles)
Back for seconds?
HARDCASTLE
(steps over to the register, returns the smile)
That was a mighty fine meatloaf, and it looks like I'll be sticking around for supper.
(leans in)
Truck trouble.
(hooks thumb over his shoulder)
Hank's working on it.
MAGGIE
He's good. You want a booth or is the counter okay?
HARDCASTLE
Counter's fine.
(refuses the menu she offers)
Meatloaf's fine, too.
(his gaze is still wandering)
Did Kitty leave yet?
Maggie had started to turn away. She stiffens slightly and looks back at him.
HARDCASTLE
Hank's waiting on parts from Fresno and he said her family used to have rooms for let.
Maggie is facing him now. She casts a quick glance at the doorway to the kitchen and then,
MAGGIE
(hesitant)
Kitty…well she's—
HARDCASTLE
(interrupts gently)
I met her this afternoon.
MAGGIE
(sighs)
I thought that might've been you she went haring out of here after.
HARDCASTLE
She wanted to ask me a question.
Maggie looks puzzled.
HARDCASTLE
A legal question.
Maggie makes an almost immediate and unuttered "o", followed by a frown. She leans in over the counter.
MAGGIE
She's a good girl, really. Just a little, ah, fixated, that's all.
HARDCASTLE
So there's nothing to it?
MAGGIE
(quiet but emphatic)
No. 'Course not. Talk to Doc Springer. Talk to anybody. They'll tell you the same thing.
(beat)
I just wouldn't want anybody to get her all fussed up, that's all. She's had a rough time—her mama running around and her gramma passing like that.
HARDCASTLE
Her mom?
MAGGIE
(waves a hand)
Eve. She's too old for that kind of nonsense. She runs off, goes to the coast, wherever. The first time she wasn't any older than Kitty is now, and when she came back, she had the baby with her.
(beat)
"Summer of Love"—my Aunt Fanny.
(looks disgusted)
Erma was always more of a mother to Kitty than Evie is.
HARDCASTLE
Sounds like it.
Maggie nods and turns again toward the kitchen.
ANGLE—INCLUDES THE DOOR TO THE KITCHEN.
KITTY McCRAY is standing in it, holding a dishtowel. It's not clear how long she's been there. Maggie looks a little self-conscious. McCRAY ignores her. She's only fixed on Hardcastle.
MAGGIE
(slightly flustered)
Oh, Kitty. I was just coming to look for you. Hank's fixing this gentleman's truck. He's looking for a room for the night.
(glances back at Hardcastle)
You do have references? Erma always insisted on references…though if it's just for one night—
McCRAY
(she's giving Hardcastle a very penetrating look)
It's okay.
HARDCASTLE
How much for the night?
McCRAY
(seems startled by the question)
Ah…ten dollars—is that okay? Breakfast's included.
HARDCASTLE
It's a deal.
(reaches for his wallet)
If you want references, I've got a friend in L.A. who's a police lieutenant.
(smiles as he opens the wallet and pulls out two fives)
He'll probably vouch for me.
McCRAY
No,
(steps over and takes the money; she's not in a joking mood)
I trust you.
Hold on that and,
CUT TO:
EXT. AN OLD HOUSE—NIGHT
It's a rambling Victorian: white wood with some gingerbread, and a spacious porch that wraps halfway around one side. Obviously some of the early Koganville settlers had money. There's evidence that the place has fallen on harder times, with paint peeling on the window frames. An old SIGN is fastened to a post is chipped and fading. It reads, "McCray House. Est. 1898. Rooms to let. References required. Inquire within."
INT. THE McCRAY HOUSE, A GUEST BEDROOM—NIGHT
HARDCASTLE is taking things out of his satchel: toiletries, some folded items of clothing. The room is a little fussy and old-fashioned but he seems perfectly at home there. As he's arranging the items we hear an odd keening whistle outside. It's just the sort of sound one might hear on the sound track of a movie thriller. Hardcastle stops what he's doing and cocks his head, then steps over, turns the TABLE LAMP off, and moves toward the window, edging up on it slightly from the side. We can still see him by the light from the hallway behind him. He's peering intently out the window. The whistle is heard again, closer. He frowns, turns and heads for the hallway. He encounters KITTY McCRAY in the hall. She's standing there, in nightgown and clutching her robe closed, looking anxious. He puts a finger to his lips and motions for her to stay put, then he heads for the darkened front room, picking up a FIREPLACE TOOL as he passes through.
EXT. THE McCRAY HOUSE—NIGHT
Hardcastle steps out, onto the porch, fire poker down at his side. He's listening carefully. We hear another whistle. He moves down the porch steps stealthily and heads toward the side of the house.
HARDCASTLE'S POV
Something's moving in the bushes near the side of the house. The whistle starts again.
HARDCASTLE
(stepping forward, brandishing the poker)
Whoever the hell you are, you're on private property.
The whistle stops abruptly with the first word out of Hardcastle's mouth. There's some rustling and the sound of footfalls on gravel, retreating. Hardcastle stands there for a moment, then slowly lowers the poker. There's a flutter of white as KITTY McCRAY comes up from behind him.
McCRAY
(frightened)
What was it?
HARDCASTLE
Not a 'what'—a who.
(beat)
That the first time something like this has happened?
There's a momentary hesitation before she nods. Hardcastle gives her a hard look but doesn't try to push the issue. He puts his free arm around her shoulders and escorts her back to the house. As they mount the steps he says,
HARDCASTLE
I think I better make a phone call.
McCRAY
No phone.
Off a surprised look from Hardcastle:
McCRAY
Couldn't pay the bill. There's nobody I call much anyway.
Hardcastle reaches for the door and holds it open for her. She passes through. He looks over his shoulder into the darkness for a moment, then follows her in.
Hold on the closed door for a moment and then,
CUT TO BLACK